Walking in the New Forest
Hampshire, United Kingdom (UK)
|
Last updated: 24 June, 2023
Walking in the New Forest is a joy; trails are easy and accessible, and invariably include a charming country pub or two. There are longer trails for serious walkers, but walking here can be as simple as leaving the car and strolling into the trees – away from the traffic and the busy villages.
Horses, ponies and even cows run wild here, there's wildlife aplenty, and the deciduous, ancient forest is a world away from the rest of South East England.
Also check out the exceptional walk over Hengistbury Head, a coastal headland just outside the Forest at Christchurch.
Price: Free
Minimum age: Any
Age suitable: 4+
When: All year around
Duration: -
Getting there & doing it
Plan ahead by downloading walking itineraries from the New Forest website. They have over 40 different walks.
If you're going it alone, the Forest can be dense in places and in some areas it's easy to get lost – take a map, or download one onto your phone – there may not always be enough signal for Google Maps.
You can also opt for a guided walk – there are different themes available including a wildlife walk. See the New Forest website for what's available. Wild New Forest offer also guided walking tours through the forest, with an emphasis on the environment and conservation.
When to do it
Walking is wondrous at any time of year. It really depends on what weather you want and how much solitude.
Things gets crowded in school holidays (July and August), around the main hubs of Lyndhurst and Brockenhurst, as do some of the most popular walking trails. But the weather is usually the warmest – you can paddle in the streams too.
Spring is lovely, with forest floors carpeted with bluebells and yellow daffodils; Autumn (September-October) sees a riot of colour, as the deciduous trees start to shed their leaves. Winter can be bracing, but extra rewarding when you retire to a roaring fire back at the pub or your hotel.
Destination guides including or relevant to this experience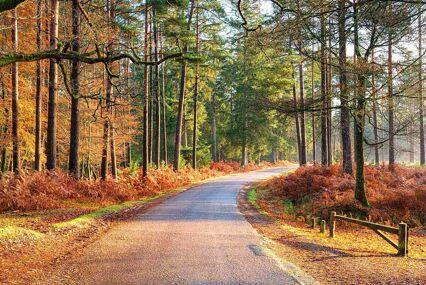 A magical, highly accessible region of ancient woodland, open heathland and postcard-perfect traditional English villages.