Destination guide for Victoria Falls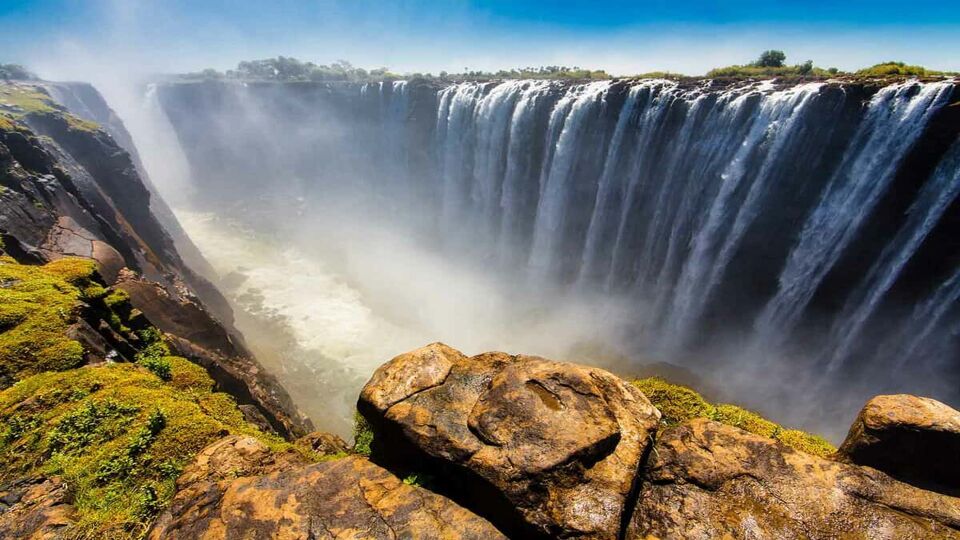 Last updated: 30 May, 2023
Long before David Livingstone named them for his Queen, the locals living on either side of the Zambezi River called the Victoria Falls 'Mosi-oa-Tunya'; 'the smoke that thunders'. And rightly so, for visiting in late summer – with the Falls in full spate – is a deafening, soaking and humbling experience. Stretching for almost a mile across the Zambezi River, the falls plummet more than 100m into the Bakota Gorge – twice the height of Niagara Falls.
While the Falls are downright impressive,  it's the area's array of activities – from Big Five game drives and white-water rafting, to helicopter flips and bungee jumping – that has turned the area encompassing Livingstone (Zambia) and Victoria Falls town (Zimbabwe) into Africa's adventure playground.
Orientation
The Zambezi River – and the Victoria Falls – forms the border between Zambia and Zimbabwe, with the two towns of Livingstone (Zambia) and Victoria Falls (Zimbabwe), enjoying equally good access to the Falls.
The iconic railway bridge links the two sides, making it fairly easy – visa-issues aside – to hop between the two
When to go
When the summer floods arrive from February to May, the Falls are turned into a maelstrom of water. They're at their most dramatic in April, but at this time parts of the Zambezi are closed to rafting and canoeing. Water sports are best from August to January, but remember that in these mild, dry days of winter and early summer the Zambian side of the Falls is little more than a trickle.
Although hot and humid, the summer months (December to February) are best for birding, and towering thunderstorms add drama to your holiday snaps.
Getting there and away
Both Livingstone and Victoria Falls Town are served by direct flights from Johannesburg, the regional hub, which has direct flights to Europe, Asia and North America. Before departure, ask your hotel or tour operator to arrange a transfer from the airport to your accommodation.
Getting around
Both Livingstone and Victoria Falls Town are compact and easy to explore on foot, with the latter a short walk from the Falls, while Livingstone is a short drive from riverfront hotels and the Falls.
Activities usually include transfers from your hotel, but if not it's best to ask your hotel to arrange a reputable taxi.
If you plan to visit both sides of the Falls, buy a Kaza UniVisa (US$50) on arrival – it's cheaper and easier than buying single entry visas each time you cross the border.
Where to stay
If money's no object, opt for a hotel with easy access and views of the Falls. Remember, though, that the Zambian side dries out in late winter. The town of Victoria Falls is convenient and within walking distance of the Falls, but across the river there's little point staying in the centre of slightly-scruffy Livingstone.
Upstream, riverfront lodges are removed from the Falls but offer luxury lodgings with incredible Zambezi views, while a handful of bush lodges in the area allow you to combine a Big Five safari stay with time near the river.
Where to eat or drink
With a lack of good local restaurants you'll probably eat most meals in your hotel, where local produce is given an international – if somewhat anonymous –face. And while chefs will conjure up something for vegetarians, carnivores will be happiest here: Africans love to barbecue, and you'll find plenty of grilled beef and game on offer. With the Zambezi River on tap, river fish, notably tilapia, also feature prominently.
Where to shop
Whether you're in Zimbabwe or Zambia you'll find the locals friendly and welcoming, but unsurprisingly, tourists are often seen as potential customers rather than new friends. Shopkeepers and traders will haggle hard for your dollars, but keep it cordial and you'll have no trouble.
Although local communities are generally patriarchal, in the tourist areas female tourists shouldn't be unduly hassled.