Destination guide for Mayan Riviera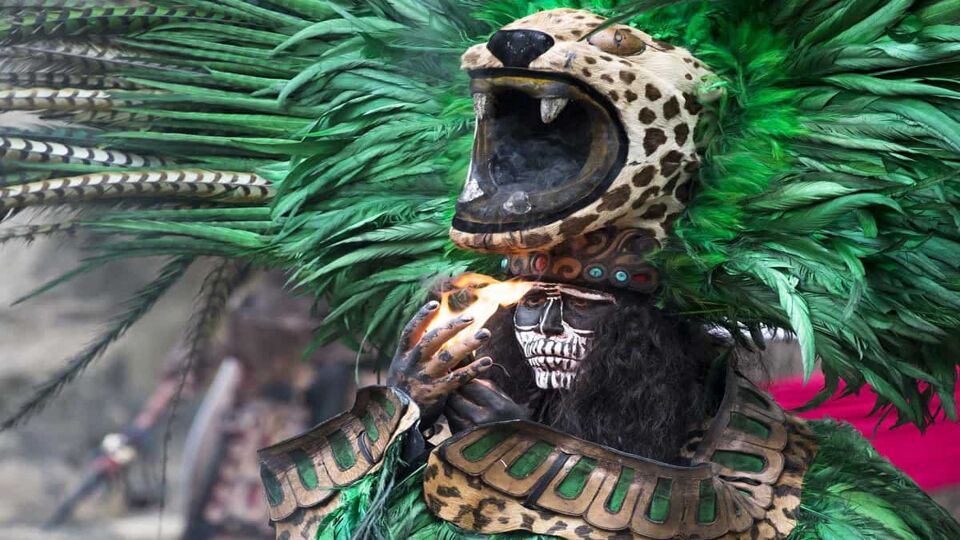 Last updated: 02 March, 2023
With talcum-powder fine beaches, coral reefs, Mayan temples set in hummingbird-filled jungles and clear-water rivers teeming with life, the Maya Riviera mixes exotic beachside luxury with romantic light adventure.
It's great for couples: with strings of romantic, low-lit beachside hotels, where you can sip cocktails in the Jacuzzi to the sound of lapping waves and trilling cicadas. With big resorts with toddler-friendly pools and waterslides, and a legion of carefully-curated adventure parks it's good for families too.
And there's plenty of adventure – with forests littered with astonishing Mayan ruins, reef and cave dives, snorkelling with whale sharks or manatees, creek kayaking, zip-lining and hikes through pristine rainforest.
Orientation
There are four main regions – with theme parks, cenotes and Mayan temples lying between them or a little further inland.
Cancun
With its main hotel zone straddling a gorgeous, 24-mile-long spit of aerated, sugar-white sand and a manatee-filled lagoon, Cancun is where all visits to the region begin and most stay. Hotels are big, family-friendly and well-appointed with huge pools and concierge-organised activities throughout the Riviera. Cancun has the region's liveliest nightlife (catering to all-comers including a Spring Break crowd).
Playa del Carmen
With pristine beaches to the north and south and a lively urban centre, Playa del Carmen offers the intimate back-to-nature feel of Tulum and Puerto Morelos and Cancun's urban amenities and nightlife – albeit on a smaller scale. The town is close to Cozumel island (for reef dives) and the big Xcaret and Xel-Ha adventure parks.
Tulum
Like Thailand's Koh Samui or Goa, Tulum started its tourist life as a low-key, beach destination with cheap backpacker shacks and no electricity. Stays retain that toes-in-the-sand, under-the-moonlight feel, but now come with optional luxury. Hotels are couples-friendly and sit in secluded jungles by the beach. Many beautiful cenotes, and the wild Sian Ka'an Biosphere Reserve sit nearby.
Puerto Morelos
Puerto Morelos offers quiet, upscale beach stays as close to the international airport as Cancun's busy hotel zone. There's a mixed bag of family resorts (great for flight-weary toddlers who don't want a long drive to the resort) and luxurious beach hotels, with their own semi-private stretches of sand.
Culture & Customs
The Yucatan region as a whole is famous for its Maya culture – both ancient and modern – and for its welcoming, hospitable people.
There are Maya ruins everywhere – from spectacular but well-tramped Chichen Itza and Tulum to barely visited Dzibanche.
There are dozens of Maya towns and villages where locals speak Yucatec Maya and wear traditional dress. Most lie a little inland.
The coast is touristy, informal and relaxed; things are more traditional in the interior.
Food & Drink
Mexican food is cheap, tasty and filling, and includes a variety of stuffed maize-tortilla pancakes, like quesadillas (cheese-filled), burritos (beef and vegetable-filled) or enchiladas (with a variety of stuffings, topped with chilli).
The many egg dishes include huevos a la Mexicana (spicy scrambled egg with peppers and onions) and huevos rancheros (fried eggs on tortilla with a rich tomato and onion sauce).
There is also a local, Yucatecan cuisine, standard US fare is widely available and increasing numbers of restaurants offer Asian and Mediterranean food.
When to go
The Mayan Riviera is sunny all year round, and temperatures rarely fall below 20C.
High season is the coolest, sunniest time to visit. It runs from December to mid-March, peaking from mid-December through to New Year and over US Spring Break (a week in early March). Hotels get booked up well in advance for these periods.
July to October is hot (up to 30C+) and sticky with a chance of rain showers. June and September to early November are the wettest and there is a small risk of hurricanes from June to October.
Getting there and away
Main access to the Riviera is via Cancun international airport – where there are plenty of car rental companies. The coastline is well-served by buses (to/from Cancún and along the entire Riviera Maya, including to Playa del Carmen and Tulum). The plusher hotels have pick-up services.
Taxis are expensive for longer distances: Puerto Morelos is 25 km south of the airport, Playa del Carmen 55 km, Tulum 118 km and the southern border at Chetumal (which is close to Bacalar lake, the dive sites at Xcalak and Calakmul temple) is 370 km.
Getting around
If you're staying in a hub and plan to take a few tours then your best bet is to use local taxis (which are cheap for short distances and easy to find in the hubs or to book through hotels or restaurants) and use tour-operator tours. Buses run throughout the Riviera and are quick and fast between the hubs, but you will need a little Spanish to negotiate them.
Those looking to explore the region further should hire a car. While most roads along the Riviera are excellent, some of the roads to the cenotes and remoter Mayan temples are rough, a few of them requiring a front-wheel drive car or a four-by-four. Outside of the main Riviera Maya hubs little English is spoken; and while the main Cancún-Chetumal highway is good at any time, some of the smaller roads can be unsafe to drive at night.
The Yucatan Peninsula is mirror-flat and great for cycling. Bikes are widely available at hotels or through rental agencies. But it can be uncomfortably hot and humid over long distances – especially in the spring and summer.
Where to stay
Families are best served by hotels in Cancun or Playa del Carmen. Cancun has the best kid-friendly hotel pools and facilities and the most tour options; Playa is an hour closer to the big adventure parks at Xcaret and Xel-Ha.
Tulum and Puerto Morelos are more low-key and secluded. Tulum has a barefoot-chic, back-to-nature feel with palm-thatch-roofed hotels right on the sand and is popular with couples.
Puerto Morelos offers plusher, more traditional urban comforts; albeit in a jungle and beach setting.
Where to eat or drink
Finding a place to eat on the Riviera Maya is never a problem. All of the hubs have a good choice of international and local restaurants.
Cancun and Playa del Carmen offer the best upscale dining – both in hotels (many of whose restaurants are award-winning and open to non-guests) and in streetside eateries. Expect not just Mexican food, but steaks, sushi, Thai and pan-European cooking.
Tulum has more informal options – either beachside and al fresco or in the village itself. The best options – many of them Asian or Mediterranean are in the middle beach area (the hotel zone) or the village, the latter of which is more informal.
The best Puerto Morelos restaurants are based in upscale resorts. Some are not open to non-guests. Cancun and Playa restaurants are just over a half-hour drive away.
Further afield, you will find excellent Yucatec-Maya restaurants in Valladolid (on the way to Chichen Itza) and even the smallest cenotes and beaches will have a snack bar or Mexican restaurant offering local standards (egg, chicken or seafood dishes served with rice and cornflour tortillas), water, juices and beers.
Health & Safety
While the region is a long way from Mexico City and the country's troubled north, there is crime on the Riviera Maya and it has risen in recent years. You will encounter few problems if you take a few precautions: avoid driving off the main highway and hotel access roads after dark; keep expensive items concealed when you're in the street and be vigilant when using ATMs.
Mosquitoes are fierce and numerous but do not carry malaria. There is a small risk of hepatitis and dysentery so it's best to avoid tap water and salads in smaller restaurants. The sun burns easily.
Bring your own snorkel and mask; rental costs are exorbitant, and you'll likely need them regularly. Also binoculars – the Yucatan Peninsula has unique and prolific bird life.