Destination guide for Costa Rica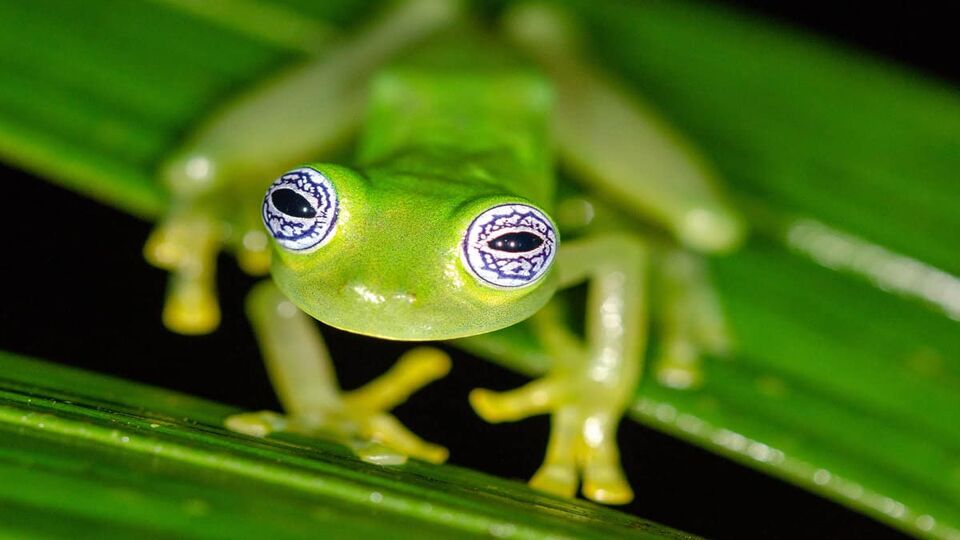 Last updated: 30 May, 2023
This little Central American country is half the size of Virginia yet it packs in a continent's worth of landscapes. There are dramatic mountain ranges studded with smoking volcanoes, wild beaches pounded by rolling surf and fringed with coral reef and pristine, bird-trilling rainforests.
More than ten percent of the country's landscapes are protected. You're coming here for the wealth of wildlife – from vast schools of hammerhead sharks gathering over reefs at Cocos Island, to the turtle-wriggling beaches of Tortuguero and the jaguar-prowled forests of the Osa Peninsula. See it all on canopy walkways and zip-lines, kayaking or white-water rafting down rainforest-choked rivers, or hiking to see waterfalls.
Orientation
Costa Rica comprises a cordillera of volcano-studded mountains swathed in pristine forests, dropping to twin oceanic coasts. The laid-back Caribbean coast is lined with palm-shaded, white-sand beaches, while the Pacific is pounded by rolling surf and fringed with forest-backed coves and long strands.
The country is mostly lush and green – with cool, misty cloud forest in the hills and steamy rainforest on the coast – though the Northwest is dry and cactus-studded.
The main regions we recommend planning your visit around, and what they offer, are as follows:
San Jose & Central Valley
The country's capital – where most flights arrive – sits in a broad agricultural valley watched over by steaming volcanoes. Other than a modest museum of pre-Colombian artefacts, the city itself has no big tourist draws. But there is a string of low-key hacienda resorts in the valley itself – offering horse-back rides, visits to coffee plantations and short or long hikes to active volcano craters – like Poas – where you can see steaming fumaroles and sulphur springs.
Arenal
Spas fed by hot mineral rivers and springs, canopy walkways in wild rainforests, walking trails leading through the jungle to plunging waterfalls; and watching over it all – the vast, perfectly conical hulk of Arenal volcano. Sitting in the centre of the country, within easy driving distance of San Jose and the coast, this region offers easy adventure in gorgeous mountain landscapes.
Cahuita National Park
The southern Costa Rican Atlantic coast is protected by a series of wild national parks. This is where dense jungle meets white Caribbean sands, where coral reefs are a paddle from the shore and where reggae music plays from makeshift bars in little English-speaking villages that feel more Jamaican than Central American.
Guanacaste & Nicoya Peninsula
Northwestern Guanacaste province is where vacationers jet in for beach holidays – staying in resorts and condominium rental homes and swimming, surfing or scuba diving off the  long sandy bays, sheltered coves and rainforest-backed strands. You'll hear more English than Spanish in the tourist villages of northern Guanacaste, but the further south or inland you go, the wilder it gets – with much of the interior, and the remote and hard-to-reach southern Nicoya peninsula, preserved as wilderness.
Central Pacific Coast
After Guanacaste, the country's central Pacific coast – which is an easy drive from the international airport in San Jose – has the greatest choice of beachside places to stay – either right on the sand or nestled in the verdant hills. Stays offer a mix of wildlife spotting, beach lazing and light adventure for all ages. A series of national parks – some of them within cycling distance of the resorts – protect the jungles, oceanic islands and the beaches.
Monteverde
Costa Rica's Monteverde cloud forest reserve is a magical place – wispy with mists, swathed in woodlands of miniature, moss-covered trees dripping with orchids and rich with rare wildlife including the spectacular Resplendent Quetzal – Central America's equivalent of a bird of paradise. The reserve protects 10,000 hectares of wilderness and facilities are first-class – with canopy walkways, hiking paths and plenty of places to stay.
Osa peninsula & the Golfo Dulce
Jutting into the blue Pacific from the mainland in Costa Rica's far south, the Osa is a rugged peninsula of wild jungle, fringed with powdery beaches. This is where serious wildlife-spotters vacation – in a string of high-end jungle lodges. It's where you'll see the rarest birds and are most likely to see big rainforest mammals like jaguar and tapir. The Golfo Dulce is a deep tropical fjord lined with steep forest-covered mountains, separating Osa from the continent. Whales calve in its deep, fish-rich waters.
Tortuguero National Park
This wildlife-teeming national park on the northern Caribbean coast is one of the best places in the world to see nesting and hatching sea turtles; together with a wealth of other wildlife – from American crocodiles to capuchin monkeys. Infrastructure is excellent, with comfortable accommodation and facilities suitable for young children.
When to go
Despite being tiny, Costa Rica's seasons vary across the country.
The best time to visit the Pacific and the Central Valley is the December to April dry season (it's rainy May to November, with September and October being the wettest months).
The Caribbean coast is dry from February to March and September to October (November to January and April to August are wet; with December and July being the wettest months). The Arenal volcano region is dry May to November.
The best Pacific surfing is during July and August.
Getting there and away
From the international airports at San Jose or Liberia (near Guanacaste), there are easy road connections or connecting flights on light aircraft to destinations throughout the country. Many hotels will arrange transport. If you're renting a vehicle (easily done at both airports), 4WD is best for managing the rough roads – especially in areas like the Nicoya Peninsula.
Getting around
Hubs are linked by local airports or airstrips, served by small turboprops run by the national domestic airlines (which include Green Airways, Aerobell, SkyWay, TAC, SANSA and Nature Air).
Overland buses are numerous, though journeys on the winding roads can take a while. Taxis are plentiful, even in the countryside, and they're generally the easiest way to get around locally. Many travellers rent vehicles – but be prepared for rough dirt roads, little signage, no illumination at night and the occasional river crossing.
In some areas, taxi boats are the primary means of transportation.
Where to stay
The Northern Guanacaste coast and Northern Nicoya peninsula are dominated by big resorts and condominiums which feel more North American than local. The southern Nicoya is more low-scale, with a scattering of New Agey, barefoot-chic hotels and more of a local feel.
The main hub resort town on the Central Pacific coast is Puntarenas, around which there are a scattering of big resorts and smaller-scale, boutiquey hotels.
There's little reason to stay in San José unless you're here on business. If you need to stay near the airport for a night or two, opt for a hacienda coffee plantation hotel (many of which sit in lovely natural surrounds) in the Central Valley. They're are as close to the airport as options in downtown San José.