Destination guide for Havana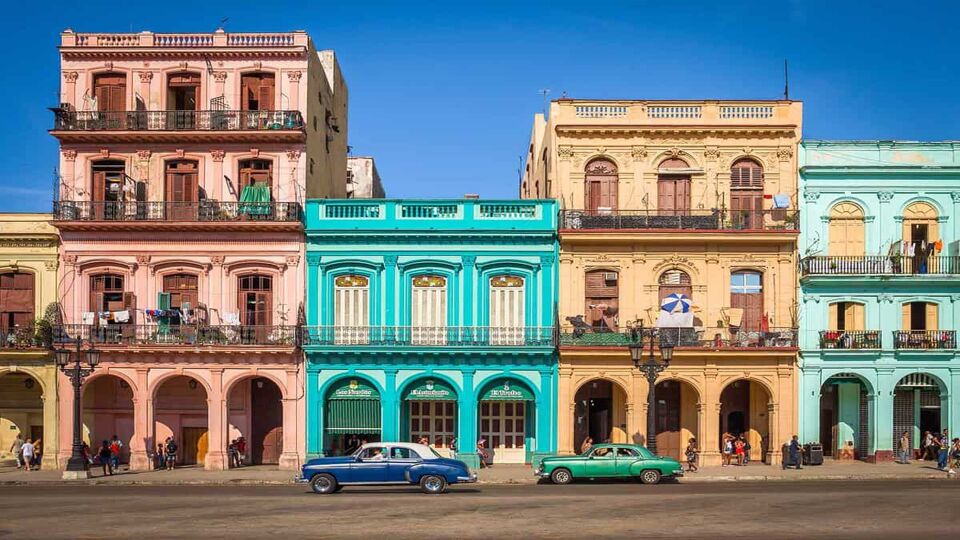 Credit Shutterstock.com/Maurizio De Mattei
Last updated: 04 July, 2023
Sensual and sultry Havana is the coolest city in the Caribbean. Her salty Spanish colonial streets fizz with music, her art shines a light on revolutions, and her architecture – a handsome jumble of Spanish villas, churches, art deco towers, and baroque mansions line promenades, tight historic streets, and her famous winding ocean-facing road, the Malecón.
Go for the live music, dance, art, the new bars and restaurants, and the Cuban wit, and to witness the last bastion of communism in the western hemisphere. Havana is enigmatic, energetic, maddening, and safe, and is perfect for couples, families and history-curious folk.
Orientation
UNESCO-listed 'Old Havana', next to the bay, is home to the majority of Havana's restored Spanish colonial churches, plazas, mansions and hotels. Further west is faded, mostly residential Centro Habana.
Beyond Centro is artsy, leafy el Vedado, with its mix of wedding-cake mansions, private restaurants and bars, upmarket B&B stays, while further west, along 5th Avenue, is the larger, smarter suburb of Miramar with embassies, restaurants and clubs. The city is hemmed in by the Atlantic Ocean, flanked by the serpentine 8km-long corniche, the 'Malecón.
When to go
The best time to travel to Cuba is from November to April, when the weather is less humid and cooler, and the risk of hurricanes has passed; hurricane season runs from June until November. Peak season is July and August, coinciding with European summer holidays, but if possible avoid this period; the heat and humidity are insufferable, and the best hotels and B&Bs, and rental cars get booked up.
The rainy season begins in May – tropical downpours are fast and heavy but are not a reason to avoid a holiday; the water evaporates immediately, cooling the air.
Getting there and away
The best and only way from the airport to the city centre is by taxi (fixed fare of 625 CUP, 30 minutes). Car rental is also available at the airport. Cuba's only public coach service – Víazul – travels from José Martí International Airport's Terminal 3 to Havana's bus station (in El Vedado) a couple of times a day.
Getting around
Modern, yellow Cubataxis are expensive. They will run anywhere but are scarce on weekend nights and when it rains. Cheaper, basic Lada Cubataxis are better value but come without air con. Classic American car collective taxis – almendrones – cross the city on fixed routes. You'll need to ask locals how to use them, as well as the collective Taxi Ruteros (Fixed-route state-run transport). Yellow coconut-shaped 'Coco' taxis are expensive and not entirely safe, but are a fun option.
Bicitaxis (bicycle carriages/pedicabs) are a useful way of crossing longer distances in the Old Town, but they cannot access the very heart of the old town. A hop-on hop-off double-decker HabanaBusTour circulates around the city.
Most of the time, you'll be moving around in organised tours. Note that Cubanacán, Cubatur and Gaviota are three state-run companies that offer most of the standard, reliable, tours and excursions across Cuba. Private ventures are however now emerging offering everything from taxi transfers to cooking and photography classes.
Where to stay
First-time visitors usually stay in the Old Town in hotels in restored historic buildings or in Cuban B&Bs. Those hotels, boutique stays, and B&Bs in el Vedado and Miramar are surrounded by a wider range of dining, drinking and entertainment options. Cuba's main attractions are in the Old Town or el Vedado neighbourhoods.
Cuba's main attractions are in the Old Town or el Vedado neighbourhoods, so first-time visitors usually stay in the Old Town in hotels in restored historic buildings or in Cuban B&Bs. Those hotels, boutique stays, and B&Bs in el Vedado and Miramar are surrounded by a wider range of dining, drinking and entertainment options.
Where to eat or drink
In general, the best restaurants, including a handful of fine dining options, are found in the more upmarket el Vedado and Miramar neighbourhoods. Old Havana is home to a cluster of great new bars and some outstanding new restaurants.
In late 2011, Cuba boosted its private sector allowing hundreds of Cubans to open new restaurants, bars and cafés. This revolutionised the eating and drinking landscape in Havana. As a result, there are now fewer old-style paladars – mom-and-pop restaurants inside Cuban homes limited to 12 chairs.
Government-run restaurants are not recommended, and strong stomachs may be needed for street snacks as most are poor quality but don't pass on fruit juices (without ice), guarapo (sugarcane juice), pure coffee or anything made with rum!
Drinking is a national sport and across the city, hip haunts and state-run watering holes pull in punters for cocktails and beers. Bars, theatres, courtyards and dance halls may erupt into partying spots at any time.
Where to shop
Alongside Cuba's dining revolution, Habaneros have found ways to open stores selling designer wares, vintage finds, hand-made clothing and crafts. Many of these are in Old Havana. For one-stop shopping for souvenirs, head to the converted warehouse on the harbour, Almacenes San José.
Official Cuban cigars (buy from the government-sanctioned La Casa del Habano stores), aged Santiago rum, beautiful screen-printed Cuban film posters, Cuban art, and the new Cuban-made designer buys (Eg Clandestina, Dador).
Health & Safety
Havana is a safe city with a low crime rate; walking everywhere is possible. It is safe for women to go out at night and to walk on main streets on their own, although taxis are always available. Don't wear ostentatious jewellery or flash cameras as opportunistic theft is occasionally a problem. Dengue fever can be a problem in the summer months.
Helpful service depends on the time of day, the individual staff member, and numerous intangible factors that Cuba presents. Be patient, it's part of the experience.
Money & payments
Cuba eliminated its dual currency in 2021. The Cuban convertible peso (CUC) is no longer legal tender. The Cuban peso (CUP), moneda nacional, remains in circulation and officially runs at CUP$24 to the USD.
Take plenty of Sterling, Euro or Canadian dollars in cash. Very few places are able to accept credit cards for payment due to the US embargo on Cuba. For cash withdrawals, charges are high. For your bank card to work in Cuba it must not have any connection to a US bank; check this before you travel.