Destination guide for The Amazon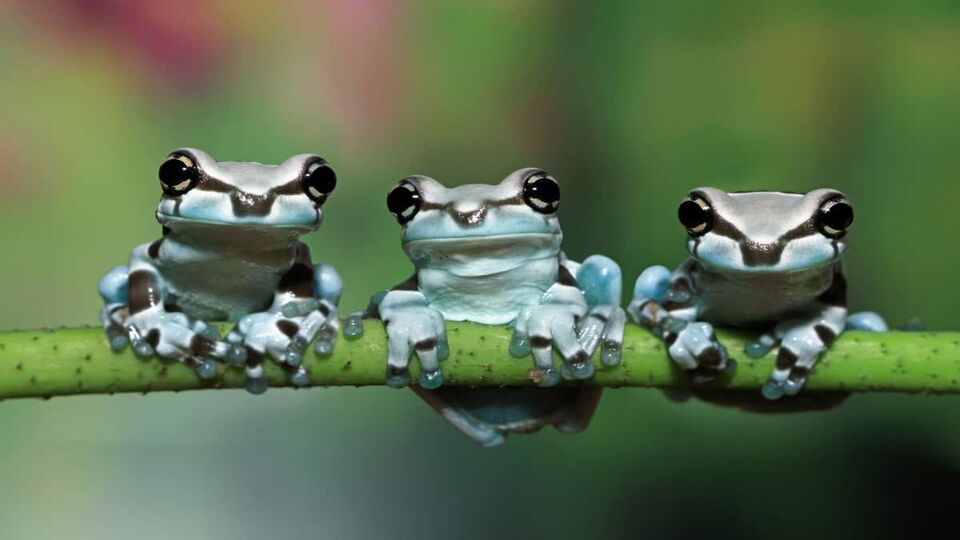 Last updated: 30 May, 2023
The Amazon Basin covers an area half as big again as India and with as great a variety. And like the Himalayas or the Sahara, it is the landscapes which overwhelm – huge waterfalls tumbling off table-top mountains, black, coffee-with-milk and blue rivers so wide you cannot see the far bank, fragrant cloud forests covered in wispy moss. While the Amazon is fabulous for bird life, it is not a safari destination. Larger animals are almost impossible to see in the dense forests.
Visits vary enormously – from stays in jungle lodges as easy and comfortable as a Southeast Asian beach hotel, to full-on expeditions – depending on the hub location you choose. The Amazon is suitable for all ages and all levels of fitness, though in general, any visit will involve some adventurous activity – short hikes, swimming in rivers or lakes and sitting in launches – often on hard seats.
Orientation
Nine countries share the Amazon Basin but access is easiest from Brazil, Peru, Ecuador and Bolivia – which have the best choice of jungle lodges and cruises.
The most spectacular landscapes are where the Amazon meets the Andes in Venezuela, Colombia, Ecuador, Peru and Bolivia, and in the lowland centre – around the Negro and Tapajos rivers in Brazil, where the river is oceanic and the horizons endless. The remotest locations – Alta Floresta in Brazil or Manu in Peru – offer the best wildlife-watching.
Manaus, Brazil
This big city in the middle of the Amazon is reachable only by plane or boat. The landscapes of the adjacent Negro and Amazon rivers are spectacular. There are many lodges nearby and cruise options. The farther you are from the city the more wildlife there is to see, with Mamirauá reserve – a short flight away – the best of them all.
Alta Floresta, Brazil
On the edge of cattle-ranching territory in remote Mato Grosso state, Alta Floresta is the access point for Cristalino lodge – the  best location in the lowland Amazon for serious birdwatchers and wildlife enthusiasts. Visits to Cristalino are easily combined with visits to the Pantanal wetlands – another wildlife hotspot.
Iquitos, Peru
An isolated town in the Amazon lowlands which became wealthy in the early 20th-century rubber boom, Iquitos offers access to jungle lodges in well-protected reserves with good wildlife-watching. Tour operators offer a range of river cruises, but it's worth bearing in mind that the scenery is not as spectacular as Manaus or Peru's Manu National park.
Cusco (Peru)
The ancient Inca capital and jump-off for Machu Picchu is not in the Amazon but it's the access point for the spectacular Manu National Park. The most pristine, unspoilt and protected area in the Peruvian Amazon that's still relatively accessible to travellers, there are wonderful mountain and rainforest landscapes and great wildlife.
Puerto Maldonado (Peru)
This small lowland village on the Madre de Dios river (a tributary of the Amazon) is the jump-off point for the Tambopata National Reserve – a large protected area with exceptional biodiversity in the lowland Amazon. There are many jungle lodge options here.
Quito (Ecuador)
Ecuador's Amazon is less spectacular than in Brazil or Peru – with smaller rivers and less dramatic scenery, but the infrastructure is excellent – with comfortable jungle lodges and good bird-watching. Most lodges are around the Napo river, an Amazon tributary. Trips leave from Quito, the country's Andean capital.
Alter do Chao (Brazil)
This small village on the blue Tapajos river close to the city of Santarem has beautiful white-sand beaches in the dry season and is the access point for the FLONA forest reserve – where you can visit rubber-tapping villages and pristine forests. Boat trips and cruises leave from Alter.
Culture & Customs
Locals are friendly, informal and welcoming – especially in the lowlands. In the Andes people are more reserved. Very few people speak English apart from those working in tourism, and in Brazil Spanish is no help – the primary language is Portuguese.
Look out for the vibrant festivals with indigenous roots – Boi Bumba (Manaus), Saire (Alter do Chão), Sine Do End Dari (Puerto Maldonado).
Food & Drink
While food varies throughout the Amazon it is invariably exotic – drawing on fish, forest produce and fruits unique to the region, and usually served in unfussy no-frills restaurants.  Although dishes (and standards) are different from region to region, what is common to all locations are the excellent river fish and exotic fruits and the use of manioc (cassava) in cooking.
What to try
Tacaca soup: throughout the Brazilian Amazon, whose jambu (a local herb) leaves tongue-tingles like space dust; Camu Camu (the fruit with the highest Vitamin C content) and delicious fish – like pacu (Spanish – gamitana).
When to go
Generally, the Amazon is good all year round, but it's a vast place so there are variations. In the lowland Amazon, temperatures only vary by about three degrees all year; the higher you get, the more the climate changes; in forested locations such as the Manu National Park, the temperature can drop to single figures at night.
Wildlife-lovers should visit during the dry season (this varies according to which part of the Amazon you're visiting) when there is a greater chance of seeing mammals as the water has dropped and they can bask in the sun. But the rainy season brings benefits too; the forest around Manaus floods from February, offering the opportunity for extraordinary dugout canoeing through the trees. Waters recede from July, when beaches are exposed.
The best time to visit Peru's Manu National Park is in the dry season – late April to September, and Alter do Chao is best between August and December. During these times the beaches are exposed, rather than below the water line, and jaguars and tapirs can often be seen along the river beaches.
Insects are unaffected by seasons; they vary according to water colour and type of forest. Brown water rivers and lakes have lots of mosquitos all year round. Black and blue water rivers have very few.
Getting there and away
Brazil: For Manaus and Alter do Chão (airport Santarem) it is best to fly via Fortaleza, which is closer to Europe and North America than São Paulo and Rio – both of which are four hours flight south of Manaus. For Alta Floresta fly via São Paulo.
Peru: for Iquitos, Cusco and Puerto Maldonado fly via Lima. Ecuador: all tours leave from Quito which has an international airport.
Getting around
The Amazon is huge and Amazon cities in different countries are not connected by flights. To visit, choose a hub location and then visit the forest from there. You will need a guide. Where there are roads they are often impassable in rain, and it's dangerous to hire a car in the Amazon. Tour operators and jungle lodges will generally pick-up from the airport on arrival and if not, then from your hotel in your hub city.
Manaus (Brazil) is a large city. Taxis are plentiful and easy to find. It is not safe to walk around after dark outside the tourist areas next to the Opera House or Ponta Negra beach. Alter do Chão is safe and small enough to walk around.
Quito (Ecuador) is a large city; taxis are plentiful and affordable and by far the easiest way to get around. It is not safe to walk around Quito after dark, especially in the quieter streets of the old colonial centre.
Iquitos, Cusco and Puerto Maldonado in Peru are easily manageable on foot. Iquitos and Cusco are safe in the city centre.
Where to stay
Staying in the Amazon can be as comfortable as in a beach boutique or as rough as an expedition camp.
In the plusher lodges – which you will find in all hub countries, expect beautifully crafted air-conditioned rooms – often inspired by indigenous Amazon designs, quality linens and sometimes a swimming pool. Simpler lodges will have little more than a wooden bed, mosquito net and a table and chair. They will be fan-cooled.
Some of the remoter areas like Manu National Park in Peru might involve camping in the forest itself, which can be an astonishing and frightening experience – with the noises of the jungle all around and lots of insects.
Amazon Cruises tend to be comfortable. You will have your own cabin, often in lush tropical wood, there will be plenty of hammock and viewing space and there are few insects on the river itself. The best cruises are the smaller ones; with more intimacy and greater access to the lesser tributaries and creeks.
Health & Safety
Manaus, Cusco and Quito – like other large Latin American cities have moderate levels of crime. Do not wear cameras and expensive jewellery in open view and be careful walking alone at night – take a taxi. Pickpocketing occurs in Iquitos.
There is little to no crime in the smaller towns. Avoid gold-mining areas throughout the Amazon and never travel alone on the rivers – backwaters are labyrinthine and it is easy to get lost.
Take advice on malaria prophylaxis – which is necessary throughout the region. Statistically, the most dangerous animals are bees and wasps.