Destination guide for Leon
Leon, Castile and Leon, Spain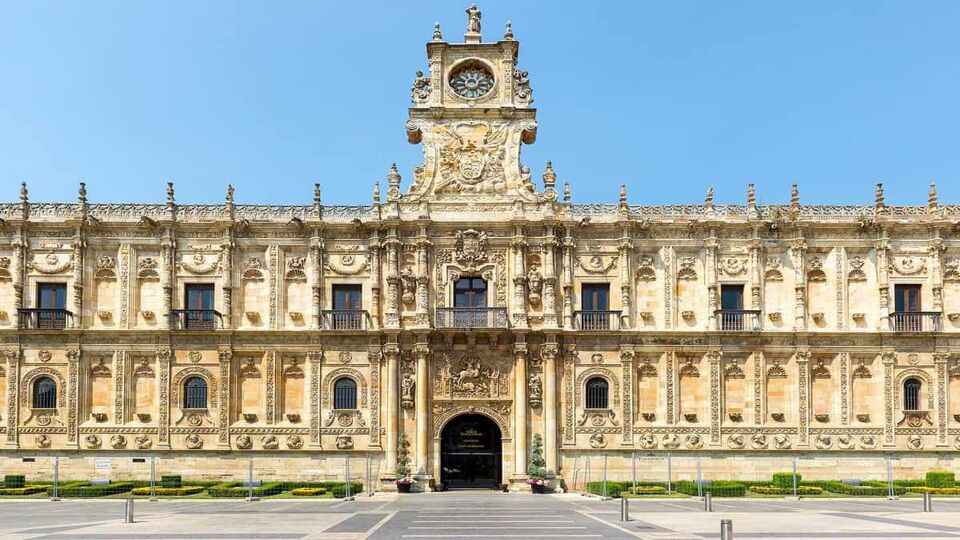 San Marcos Monastery, Leon
Credit Shutterstock.com/Noradoa
Last updated: 18 June, 2023
Leon is a progressive city, the last one on the Camino Frances to Compostela. Like others along the way, its glory days were in the Middle Ages, but what sets Leon apart is that it has never lost its separate identity – in 1188 it hosted the first Parliament in Europe, had its own language, Leonese (currently undergoing a revival) and maintains a calendar of unique fiestas.
Even if you're not a pilgrim, Leon's spectacular crystal Cathedral, its Pantheon of San Isidoro, and its singular building by Gaudi are worth a day by anyone who loves art and culture.
When to go
Peak season here is during the popular months of the Compostela pilgrimage, between April and October. Leon also gets a fair number of summer tourists for its monuments and its festivals, including its unique version of Holy Week (Semana Santa), the week before Easter. Other busy times are the major fiestas of San Juan and San Pietro, running between 23 and 29 June.
July and August are dry and warm; the wettest months are October through January. Come in winter if you want to experience Leon like a local.
Getting there and away
Leon has an airport, 6km west of the centre with daily flights from Madrid and Barcelona. You can hire cars there, or take a taxi into town.
The city is also easy to reach by rail, with high-speed trains from Madrid arriving in under two hours at the station just west of the centre.
Getting around
Leon is very walkable, with all points of interest within a couple of kilometres of each other. It has plenty of taxis in ranks distributed across the centre and at the train station. There are three convenient pay parking garages near the west end of Calle Anche, convenient for the central Plaza Mayor, Cathedral, bars and restaurants.
Where to stay
First-time visitors should try to stay in walking distance of the picturesque Old Town, known as the Barrio Humedo (the 'wet district' because there are so many bars!), around Plaza Mayor and Calle Ancha. It's also walking distance of Leon's sights, and a wide choice of restaurants, bars and shops.
Leon's luxurious Parador and a few other less grand hotels are located along the peaceful park-like banks of the Bernesga river, which are still in walking distance of the sights.