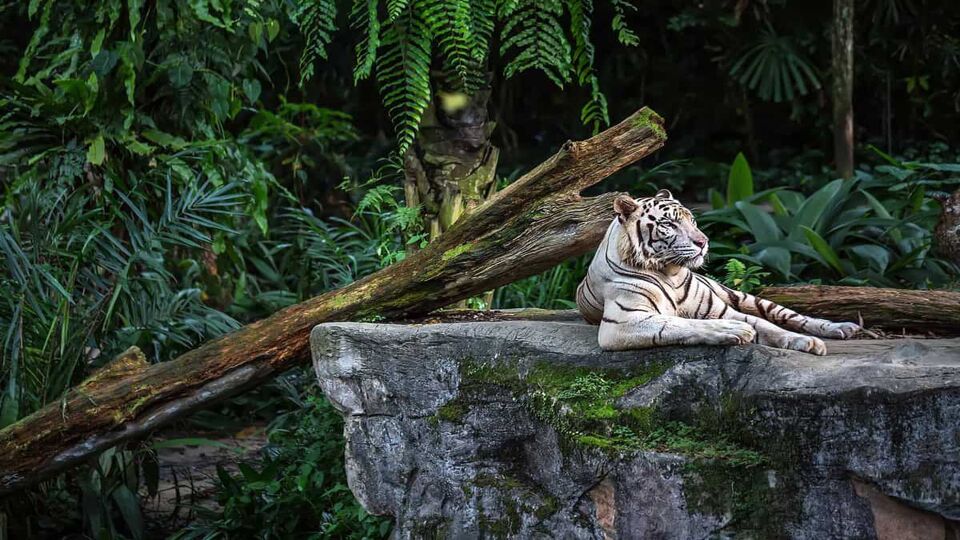 Last updated: 26 June, 2023
A pioneer of the environmentally sensitive 'natural habitat' approach, Singapore Zoo has no cages – in many cases all that stands between you and the wildlife is a moat. More than 3,000 animals are housed here, including giant pandas, giant tortoises, and the world's largest colony of orang-utans.
There are also excellent opportunities for animal interactions, including shows, behind-the-scenes tours, feedings, and, best of all, breakfasts with orangutans, elephants and snakes.
Don't miss
Singapore Zoo is the only place in the world where can have breakfast with orangutans (from 9am-10.30am, book ahead), and worth a full day or second trip (if you're also doing the Night Safari). Breakfasts with elephants or snakes are also available.
Great for kids
The zoo is brilliant for kids, and offers a number of special activities. The Rainforest Kidzwolrd is an interactive play area with rides, slides and animal petting. The Kidzranger Tour for 5-12s gives them a stint as a zoo keeper, with behind-the-scenes access, feeding/grooming, and a Kidzranger vest. (45 minutes, weekends only, book ahead).
Price from: £28
Minimum age: Any
Age suitable: 4+
When: All year around
Getting there & doing it
There's no close MRT station, so take a taxi or buses 138, 926 and 927 stop nearby.
The zoo has a range of guided tour options, both public and private/VIP, which can be booked via the website. Book at least five days ahead for these. Visit the zoo in the afternoon, and then head to the Night Safari afterwards. If you're doing a breakfast, go for the day (or come back for the Night Safari).
The zoo closes at 6pm, and most people then get dinner at one of the on-site food outlets before Night Safari opens at 7pm.
When to do it
It's open all year round, seven days a week.