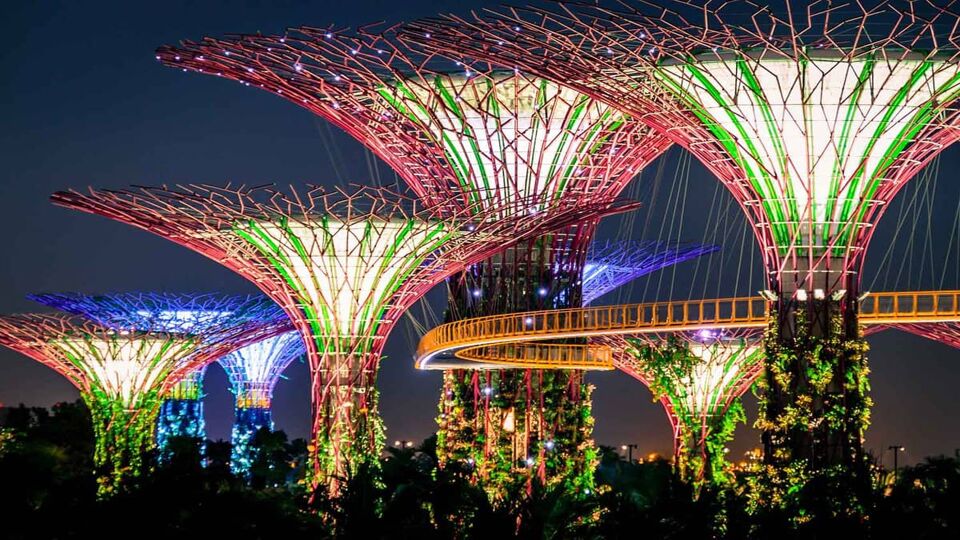 Last updated: 28 May, 2023
A waterfront mega-park containing a series of 'supertrees' (vertical gardens planted in giant, man-made palms), alongside an indoor botanical 'Cloud Forest Dome'.
A unique, mesmerising showcase of horticulture and garden artistry.
Anyone with even a passing interest in nature or horticulture, should stop by this new waterfront mega-park, where a series of 'supertrees' (vertical gardens planted in giant, man-made palms) dominate the landscape.
The aim is to get visitors thinking about the ecological function of trees: the largest specimen comes with a Swiss Family Robinson-style restaurant in the upper branches. There are also two huge conservatories, the Flower Dome and Cloud Forest, filled with tropical plants.
Price from: £15
Minimum age: Any
Age suitable: 4+
When: All year around
Getting there & doing it
Take the MRT to the Bayfront station (CE1), exit B and then follow the underground linkway. There's plenty of parking if you're driving.
Entry to the outdoor garden and to watch the light show is free. Access to the Cloud Forest, Flower Dome and OCBC Skyway require purchasing tickets (around SGD30).
Start off with the Garden Cruiser tram that takes you on a 20-minute overview tour (with commentary) to get your bearings, then wander through the various conservatories and gardens at leisure. It's worth investing in either a self-guided trail map or the audio guide (available at the ticketing hub or visitor centre, for a small fee), both of which guide you around while offering up interesting information on the plants and habitats you come across.
When to do it
It's open all year round, seven days a week.