Cycling in the New Forest
Hampshire, United Kingdom (UK)
|
Last updated: 24 June, 2023
As cycling destinations go, this stunning ancient forest is just about perfect. There are more than 100 miles of off-road cycle routes for all ages and abilities, from family-friendly flat trails across open moorland, to challenging routes for mountain bike enthusiasts.
The New Forest has a variety of habitats to explore – traditional English villages with cutesy country pubs for eating and sleeping, and an abundance of wildlife to spot. Cycling is the best way to see it all and to understand country life here. Trails criss-cross the whole area, so you can start anywhere; pick up a bike and off you go.
Price: Free
Minimum age: Any
Age suitable: 4+
When: All year around
Duration: -
Getting there & doing it
If you're coming by train, direct trains from London Waterloo to the New Forest take about two hours.
The excellent New Forest cycling website has lists of cycling routes and downloadable route maps. There are bike hire outlets all over the Forest, so choose your route first, then find bike hire nearby.
The central town of Brockenhurst is the main cycling gateway – there's a convenient bike hire shop at the train station that can also provide advice on the many routes from the village, but you can get off at any of the villages on the route and start exploring.
Another good option is Forest Leisure Cycling in Burley. They offer bike hire and maps for nine cycle trails that start from the shop front door. You'll need a car to get there though.
When to do it
It gets crowded in school holidays (July and August) and the roads get clogged, so plan routes away from the main hubs of Lyndhurst and Brockenhurst if possible. Spring is lovely, with forest floors carpeted with bluebells and yellow daffodils; Autumn (September-October) sees a riot of colour, as the deciduous trees start to shed their leaves.
Destination guides including or relevant to this experience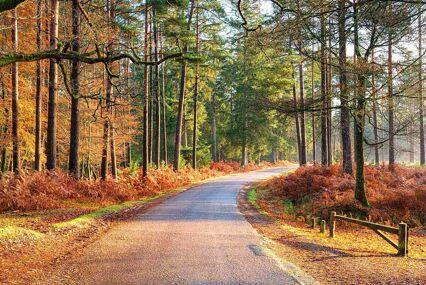 A magical, highly accessible region of ancient woodland, open heathland and postcard-perfect traditional English villages.