Destination guide for Cairo
Cairo, Upper Egypt, Egypt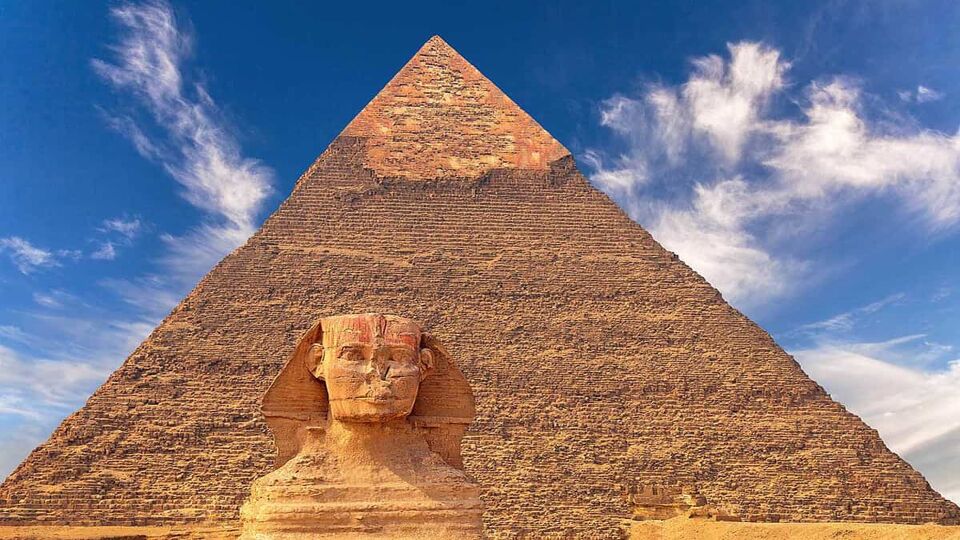 Last updated: 19 August, 2023
It was called the 'Mother of the World' in the Arabian Nights and the 'Mother of Revolutions' when crowds marched into Tahrir Square during the Egyptian Revolution of 2011.
Visitors come to Cairo for its antiquities – notably the Great Pyramid and Sphinx, or the treasures of Tutankhamun – but leave with memories of the Nile that cuts the city in half, with stories of lively souks, crowded streets, choked traffic, and of its friendly, humorous people.
In spite of its age and its wealth of historic monuments, Cairo is a young city, bursting with energy.
Orientation
The Nile cuts through the heart of Cairo, running south-north. Downtown Cairo begins beside the Nile on the east bank, home to the Egyptian Museum and to some grand 19th-century buildings.
The old city – 'old' here being medieval (it was founded in 969), is on the east bank, beyond the downtown area.
The ancient remains lie on the west bank at Giza, where the Pyramids and Sphinx sit above the old flood plain.
Culture & Customs
Cairenes, like all Egyptians, exhibit great hospitality towards foreigners. Outgoing, mostly hard-pressed and hard-working, they have a love of humour. Cafes and souks are the two great places to meet people.
Egyptians, whether Christian or Muslim, tend to be actively religious, but will not mind if you are not and will still welcome you into churches and mosques outside prayer time. They are also conservative, so respecting their values (including dressing modestly) is always appreciated.
There are many situations in Cairo when bargaining is expected – including shopping in the souk, booking hotel rooms out of peak season, and taking taxis with the meter off.
Tipping is a way of life in Cairo and baksheesh – often just a small amount (5 Egyptian pounds) – will be welcomed by everyone from doorman to driver and waiter.
Food & Drink
Cairo cuisine employs a wealth of fresh ingredients, with vegetables coming from along the Nile and seafood from the Red Sea.
Dishes are rarely spicy hot, but always flavourful – cumin, garlic, coriander and parsley being dominant. Fava beans are a staple – fried as 'falafel' or stewed as fuul, mopped up with flatbread.
Meat is important as kebab or kofta, washed down with a fresh seasonal juice – look out for mango, pomegranate and guava.
Stuffed pigeons are delicious and reputed to boost the sex drive, while molokhiya, a delicious vegetable sauce served with chicken, dates back to ancient times.
When to go
Summer (July-August) can be blisteringly hot and the annual fasting month of Ramadan often brings Cairo to a standstill. While most Western visitors stay away, the city is busy with people from the Gulf and other Arab states.
Winters can also be surprisingly cool, though the Christmas/ New Year period is one of the busiest. April is traditionally the month of the hamaseen (sandstorms), which is best avoided.
The months from September to November and February to March are the most pleasant as the temperature drops and the light is rich.
Getting there and away
Many hotels offer shuttle buses, or private meet-and-greet services, which can be pre-booked. Otherwise, the best way of getting into town is by 'limousine' (usually a normal car) booked inside the airport terminal.
Avoid people offering taxis inside the terminal – many of them do not have cars or licences. The drive to downtown takes 30-90 minutes depending on the time of day/traffic.c
Getting around
Taxis can be hailed in the street (though obviously hard to find at rush hours) and are good value. Sharing a taxi is common and you can flag down a car that already has passengers. Driving in Cairo is difficult and not recommended.
Cairo's metro is surprisingly efficient and clean and links the museum, train station and many other useful places. Downtown it is quicker and more interesting to walk than be driven by day.
Where to stay
Cairo's hotels are clustered in three main areas. The Pyramids are at the western edge of the city in Giza, but there is little else to do in the vicinity and travel to the centre can be difficult.
Hotels on the Nile in the centre of the city offer great views and relatively easy access to the Pyramids, to the city's museums, souks and other sights, so a good choice for a first visit.
Some hotels have opened in some of downtown Cairo's grand 19th-century buildings, good for the medieval city atmosphere and experiencing local life.
Where to eat or drink
The hotels and floating restaurants along the Nile offer a range of options for dining and dancing, as well as belly dance shows. The nearby upmarket district of Zamalek has an equally wide range of choices, from cool waterfront lounge-bars to good restaurants. Downtown has a few famous restaurants and many wonderful cafés. The old city, in the Khan el Khalili and around Midan Husein, has locals' cafés that are busy until late.
Where to shop
The Khan el Khalili souk, jammed full of shops and stalls selling everything from diamonds to t-shirts, is where most tourists head. There are more authentic shops on nearby Sharia al Muizz li Din Allah. A better option for local fashion, jewellery and homeware is the exclusive enclave of Zamalek.
Increasingly Cairenes shop in malls, like City Stars near the airport, or Beyman at the Four Seasons Hotel Nile Plaza, lured by luxury brands.
Look out for Egyptian cotton woven into robes, cut as shirts or bed linen, pottery from Fayoum, and handblown glass as wine glasses, lamps or ornaments. Silver jewellery can also be good.
Health & Safety
Cairo was one of the world's safest cities until the 2011 revolution. Since then, there has been an increase in petty crime, mostly mugging, and in harassment of women. Different standards of restaurant hygiene often give visitors stomach problems.
And beware the traffic, which is both heavy and lawless: when not gridlocked, many drivers ignore traffic signals and speed limits.