Recommended place to stay:
Faena Hotel Miami Beach
Miami, Florida, United States of America (USA)
|
www.faena.com
|
Official star rating: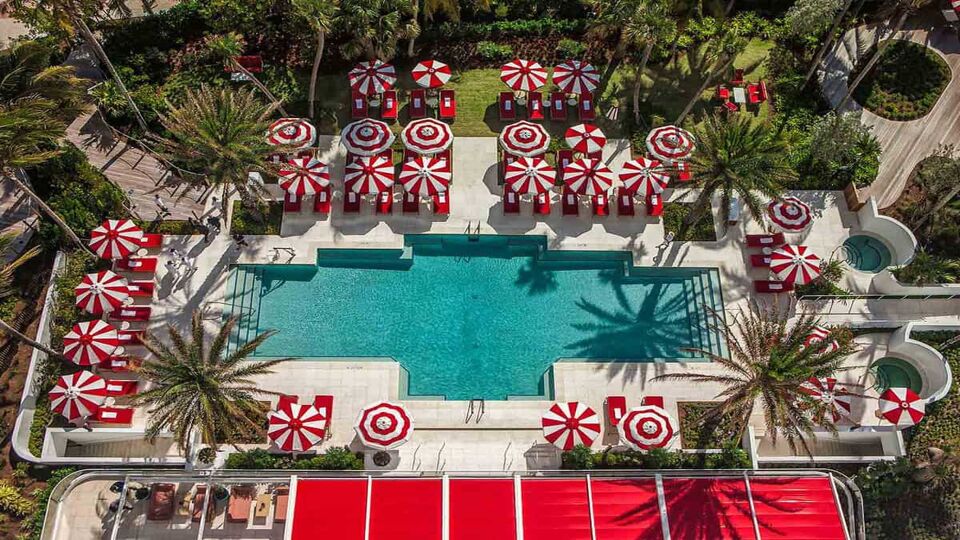 Last updated: 03 December, 2023
Filmmakers Baz Luhrmann and his Academy Award-winning designer wife Catherine Martin were creative consultants for this fabulously OTT hotel. They took inspiration from their film collaboration, The Great Gatsby, to create interiors that are a shimmering symphony of red, gold and tiger print.
An extraordinary collection of contemporary art is sprinkled through the hotel, including a Damien Hirst sculpture of a woolly mammoth skeleton, dipped in 24-carat gold. Standing poolside, it adds a unique edge to views of the sky-blue Atlantic, bone-white beach and swishing palm trees.
The Tierra Santa Healing House spa is an equally theatrical affair, commanding 22,000sq ft of the third floor. This ensures plenty of room for one of the east coast's largest hammams, spectacularly clad with slabs of twinkling Amazonite, a precious gemstone with healing properties.
Treatments take their cues from South America as well as Asia, so the team includes intuitive shamans who employ the magical powers of Nepalese singing bowls, handmade from seven different metals to ensure a perfect fine tune. This is not the place for shrinking violets.
Don't miss
The Tierra Santa Healing House offers a 'Sacred Connection Ritual' involving two therapists, using sacred South American oils and working in perfect synchronicity as they massage your body from top to toe including your face. They also play Nepalese singing bowls to enhance the feeling of total surrender.
Pranic healing is a system of energy medicine focused on cleaning and rebalancing the body's chakras. The 'Pranic healing treatment' involves inhaling the aroma of Palo Santo smoke, a sacred tree from the east coast of South America known for its mystical healing properties. In the background, Nepalese singing bowls harmonise and relax the brain and body through sound and vibration.
Surrounding area
The hotel is in a quiet corner between 32nd and 36th Streets, not far from Collins Avenue, one of the city's main arteries. It is part of Mid Beach that is now called the Faena District as the hotel's owner has also built the Faena Forum and Faena Bazaar, an arts and cultural complex. It is 11 blocks from Art Deco South Beach with its famous beach scene and vibrant nightlife.
Please note - we hope to one day have live prices for you, but for now, here are some useful links for you to compare prices...
Check pricing & availability on:
Key facilities
Airport transfers: Not available
Room facilities
Tea & coffee making facilities