Split's best food & drink
Last updated: 25 June, 2023
Split is part of the coastal Dalmatia region, meaning local cuisine is dominated by fish and seafood. Classic Mediterranean flavours – tomatoes, parsley, garlic and rosemary – are often paired with fish.
Dalmatian ham is as salty and delicious as prosciutto; platters of ham, local cheese and olives is a popular starter. Deep-fried fritters are a favourite sweet snack, sharp with lemon zest and Schnappes.
Traditional hearty Dalmatian dishes are served in atmospheric, family-run konobas – rustic taverns with exposed stone walls and wooden tables and benches. Croatia's Italian heritage is seen in pizzerias and gelaterias on every street.
What to try
Local specialities include prsut (similar to Italian prosciutto), srdela na zaru (barbecued sardines), blitva (Swiss chard) and paaticada (beef stewed in sweet wine and prunes and served with gnocchi).
Order Brujet, the dish of the Croatian coast – a deliciously rich and garlicky fish stew made with a variety of white reef and rock fish, often with prawns and mussels too.
Also see our round-up of traditional Croatian foods you must try in Croatia.
Price: Free
Minimum age: Any
Age suitable: 13+
When: All year around
Duration: -
Getting there & doing it
In Split's car-free Old Town, there's a plethora of eateries serving traditional Dalmatian cooking with an emphasis on seafood, as well as plenty of busy cafés and small romantic bars – most have outdoor tables.
Along the coast, you'll find more modern restaurants with an international slant serving contemporary Mediterranean cuisine – some have impressive sea-view terraces. For noise reasons, Split's half-dozen late-night clubs are also on the coast, outside the historic centre.
When to do it
Dinner is the main meal of the day, and usually eaten later in the evening – between 20.30-22.30. If you arrive at a restaurant before then, it will generally be tourists who are eating.
Destination guides including or relevant to this experience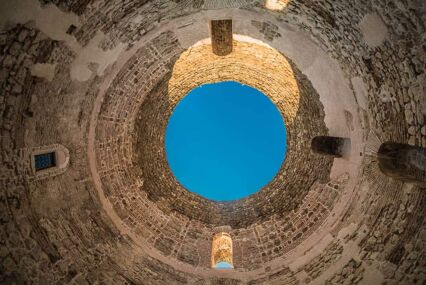 With ancient architecture, Adriatic island-hopping and adventure sports galore, Split makes a superb seaside base.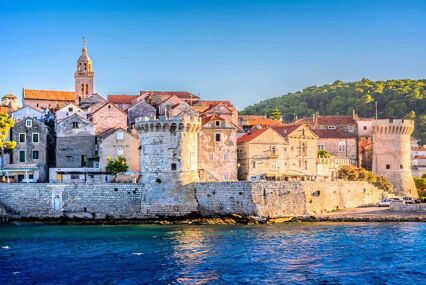 A magical, unspoilt archipelago of a thousand-plus islands stretching along Croatia's southern coast. A heady mix of sea, mountains, adventure sports and medieval buildings