Santillana del Mar
Santillana del Mar, Cantabria, Spain
|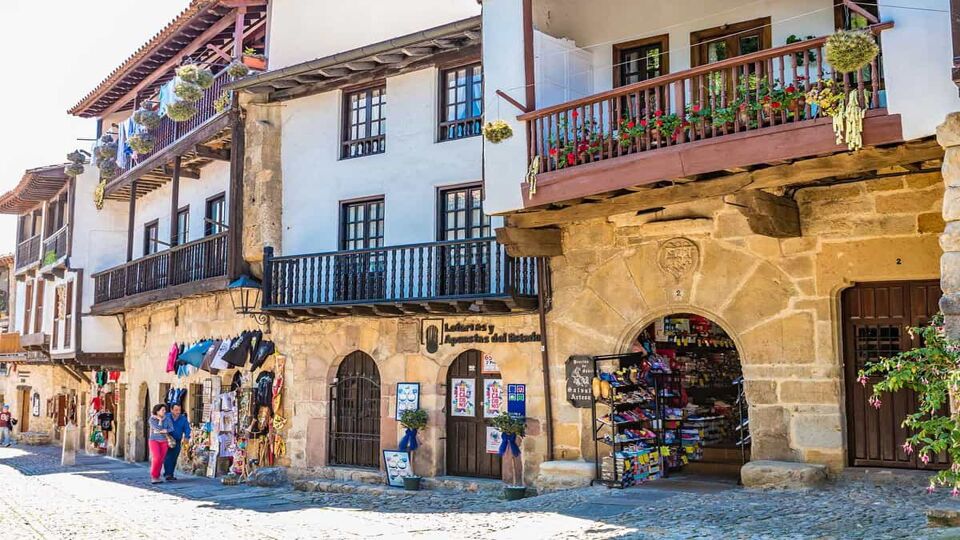 Credit Shutterstock.com/Takashi Images
Last updated: 28 May, 2023
Decades ago Jean-Paul Sartre called Santillana del Mar 'the most beautiful village in Spain' and it's hard to argue. At one point nearly every resident was a wealthy noble, and they left behind a time capsule of cobbled lanes, medieval towers, aristocratic Gothic and Renaissance palaces and a handsome Romanesque church amid lush green hills and dairy farms.
It's only a 5-minute drive to the sea and Cantabria's beautiful, cliff-lined coast and sandy beaches.
Although most people only stay for an hour or so, stopping for a drink before (or after) visiting the Cave of Altamira, it's a lovely place to spend a night or two – after dark, when the coach parties go, Santillana is at its most evocative.
While you're there
If you have time, make a 15-minute drive to the picturesque ruins of the Hermitage of Santa Justa, tucked in the coastal rock formations just above the waves, and reached via a walkway along the shore. There's also a very scenic beach and bar.
Price: Free
Minimum age: Any
Age suitable: 18+
When: All year around
Getting there & doing it
It's easiest to reach Santillana by car; there are two large car parks on the edges of the village, although they often fill up in high season. Buses go from Santander and Torrelavega, which has the nearest train station. It's a 1.5-hour drive (120kms) from Bilbao.
Because Santillana gets so many tourists, restaurants often don't try as hard as they might, but the Gran Duque and El Bisonte Rojo are reliable bets.
When to do it
Little Santillana del Mar can be chock a block with day-trippers from spring to autumn; try to stay overnight, when it regains its ageless tranquillity. A good strategy to avoid the crowds is to arrive at dinner time, stay overnight, visit the Cave of Altamira first thing in the morning, and spend the day at the beach or exploring the coast, and return in time for tapas.