Hike the Larapinta Trail
MacDonnell Ranges, Northern Territory, Australia
|
nt.gov.au
|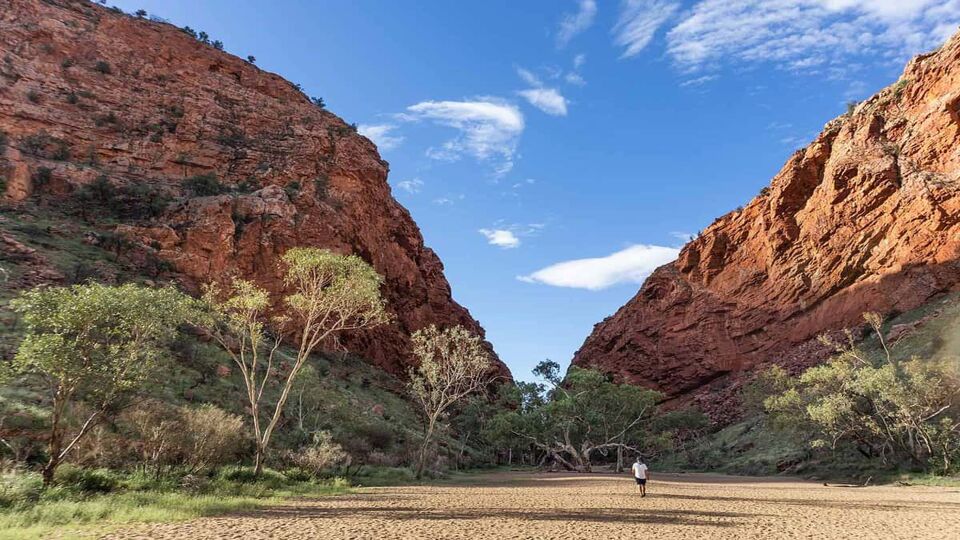 Last updated: 24 June, 2023
Since it was completed in 2002, the 231km Larapinta Trail has become one of the most popular long-distance hiking tracks in Australia.
Traversing the magnificent West MacDonnell Ranges, the trail offers stunning desert vistas and rugged mountain ranges. It's a landscape of sprawling plains and dry creek, interspersed with exceedingly rocky ridges with stunning views.
Total walking time is 16 days but the Larapinta can also be tackled in shorter, bite-size pieces, such as Trek Larapinta's three-day itinerary, which includes Ormiston Pound, Glen Helen and Mt Sonder.
Price: Free
Minimum age: Any
Age suitable: 18+
When: All year around
Duration: 1-16 days
Getting there & doing it
This epic Outback adventure is extremely challenging so unless you're an experienced hiker join an organised tour, such as Trek Larapinta. The entire trail takes 16 days to complete, but shorter options are available.
The trail is divided into 12 sections that each take one or two days to complete. See the official website for maps on each section.
The trail starts at the Telegraph Station just outside Alice Spring and ends at Mt Sonder. The trail is safe, accessible and well maintained. Blue arrow trail markers every 500m make it easy to follow.
If you only have a day to spare, the 32km return hike to Mt Sonder provides a good taste of the Larapinta odyssey. Hikers can follow the path from the Redbank Gorge car park, 156kms west of Alice Springs, to the summit of Mt Sonder – the highest point in the West MacDonnell Ranges. The walk can be completed in around six hours – take water. Camping is permitted in Redbank Gorge.
When to do it
While the trail is open all year round, the southern Autumn and Winter months are the best time to walk. Desert summers (December to March) are too hot for physical activity, and the air is filled with relentless swarms of annoying flies.