Greek Orthodox Easter
Patmos, Greek Islands, Greece
|
Last updated: 21 June, 2023
Easter is the biggest event in the Greek calendar, and it's celebrated on Patmos with great pomp.
Pilgrims throng to the island to attend liturgies in the Cave of the Apocalypse; on Easter Thursday, the Abbot bathes the feet of a dozen monks in imitation of the Last Supper; and on Easter Sunday, the Second Resurrection is read in seven languages and red eggs are handed to the congregation.
Easter on Patmos offers a unique immersion into Greek culture, but it's deeply traditional and almost exclusively attended by locals and Greek pilgrims, so don't expect to party.
Price: Free
Minimum age: Any
Age suitable: 18+
Frequency: annually
When: April/May
Duration: 1 week
Getting there & doing it
The main events take place in the Monastery of St. John and the Cave of the Apocalypse, but every one of the 300-plus churches on Patmos commemorates Easter throughout Holy Week. All events are free, though the major services get very crowded and are standing-room only.
When to do it
Greek Orthodox Easter is usually celebrated in April or early May. Dates vary each year.
Destination guides including or relevant to this experience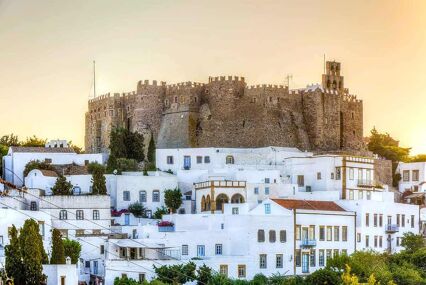 An unspoilt island of revelations, with mystical monasteries, isolated beaches, and a stunning medieval capital.