Real Madrid's Bernabeu Stadium
Last updated: 27 May, 2023
Football is a great Madrileno passion, and football in Madrid means either Atletico Madrid (red) or Real Madrid (blue). For an insight into just what football means to the city, head to Real's 85,000-seater Bernabéu Stadium. Guided tours allow visitors to walk down the players' tunnel, sit in the presidential box, and marvel at the silverware accumulated during the club's illustrious 110-year history.
Even if you don't like football, this is a fascinating insight into one of Madrid's greatest sporting and cultural institutions.
Price from: £10
Minimum age: Any
Age suitable: 6+
When: All year around
Getting there & doing it
The closest metro is Santiago Bernabeu. Official tour tickets are sold online, but also on-site. They start from Torre B (Tower B) on Avenida de Concha Espina. The tour takes about an hour, but you'll probably spend another hour in the museum and store.
If you want to catch a live match while you're in town, visit the ticket sales section of the website. Seat prices usually start at £30.
If you happen to be there for the 'Derby' – when local teams Atletico and Real play each other, be warned: all hell breaks loose on the streets before, during and after the match.
When to do it
The stadium is open for tours all year round, seven days a week. Tour times vary, so check the website and book your tickets online in advance.
Destination guides including or relevant to this experience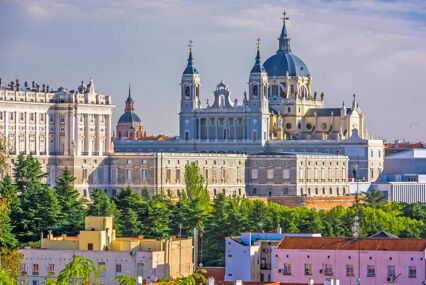 Spain's sunny capital offers up world-class art, super shopping, renowned tapas and late, late nights.