Destination guide for Symi
Symi, Greek Islands, Greece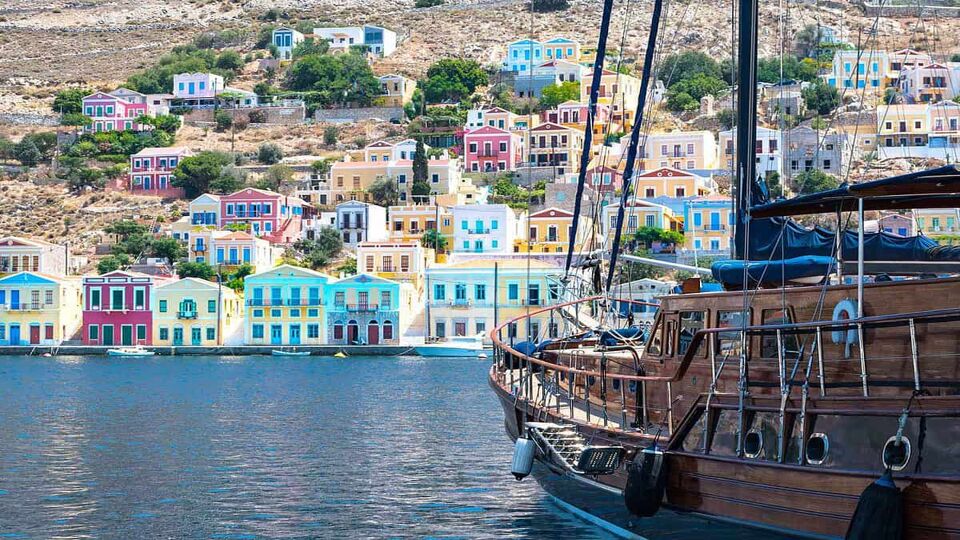 Last updated: 19 June, 2023
With its neoclassical harbour lined with pastel-coloured mansions, little Symi instantly makes a big impression. The grand houses are a legacy of the island's 19th-century heyday as a major player in the sponge and spice trade.
Today, the small population makes a decent living from the ritzy yachts moored alongside al fresco fish restaurants, as well as Greek pilgrims who flock to the magnificent monastery of Panormitis.
Beyond the lively people-watching along the port, far-flung Symi is also a place for romance and relaxation: its craggy coastline conceals pristine beaches accessible only by sea or on foot.
Orientation
Giant yachts and gleaming wooden gulets line Yialos, the horseshoe harbour at the heart of the action.
Chorio, the sleepier upper town, is accessible via Kali Strata, a steep, stepped path. It offers a glimpse of bygone Greece with its faded 18th-century mansions and narrow stone archways, and is ideal for a lazy wander. At the pinnacle is Symi's ancient acropolis, with vertiginous views of the harbour.
Nimborio to the north and Pedi to the south are quaint seaside hamlets with cute tavernas. In contrast to the rocky coast, the centre of the island is thick with cypress forests.
At the southern tip is Panormitis Monastery, a magnet for Orthodox pilgrims.
Food & Drink
Fresh fish and seafood abound on Symi, but the island does not have the gourmet dining scene of other islands. Humble taverna staples are best enjoyed at the seaside shacks on the island's handful of isolated beaches.
Try some Symiakes garides (Symiot baby shrimps), famous throughout Greece. Deep-fried and eaten whole, they make an addictive accompaniment to ice-cold ouzo.
Also see our round-up of traditional Greek foods to try in Greece for some culinary delights you will no doubt come across while you're there.
When to go
Unlike most small Greek islands, the tourist season lasts for seven months (April to October), as Symi has an unusually warm climate. The whole island shuts up shop between November and March.
It gets terribly hot – and terribly crowded – in July and August, when prices are highest. For more temperate weather, better deals and beaches to yourself, the best time to visit is late spring (May-early June) or late summer (late Sept-Oct).
Getting there and away
There's no airport on Symi, one of the Dodecanese islands in the southeast Aegean. Fly to Rhodes (45 minutes from Athens; also serviced by international charter flights from May to October). From Rhodes Airport it's a 20-minute bus or taxi ride to Mandraki Harbour, where ferries or hydrofoils (1.5hrs/1hr) depart for Symi.
The infrequent ferry from Piraeus to Symi takes an agonising 19 hours. Ferries from Piraeus to Rhodes take 12-18 hours.
Getting around
There are very few roads on Symi. It's possible to hire a car or scooter in Yialos or Pedi, but most attractions are accessible by boat or on foot.
Away from the harbour, there's little development. Footpaths through pine and cypress pass hidden monasteries with panoramic views.
There's an hourly Yialos–Chorio–Pedi bus service and a daily service to Panormitis Monastery. The island has a few taxis, on the right-hand side of the harbour.