Destination guide for Sharm El-Sheikh
Sharm el-Sheik, Sinai Peninsular, Egypt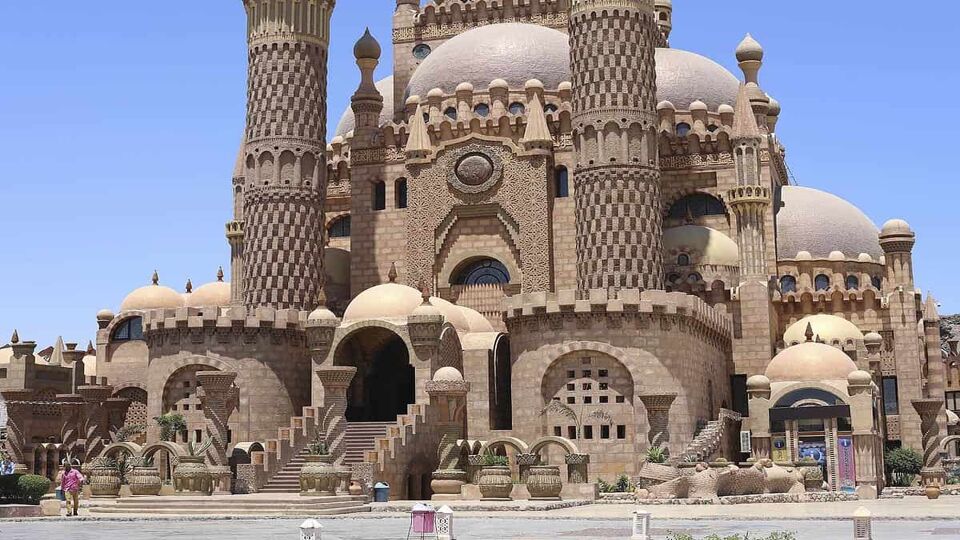 Credit Shutterstock.com/Good Luck Express
Last updated: 22 August, 2023
With coral reefs below, desert hills above, reliable sunshine and almost no rain – it's no wonder Sharm el-Sheik and other Red Sea coastal towns have become some of the world's top beach destinations.
The beaches aren't great – often mostly rock, though sand has been laid in resorts– but throw in a wide range of accommodation options, some lively nightlife, and plentiful on-shore activities including golf, and the Red Sea Riviera has something for everyone.
This stretch of Egypt's Red Sea coastline also takes in some of the most spectacular diving in the world. If you're coming to dive, Ras Mohammed is where it's at, though transfers from other resorts on the Sinai peninsula are a simple matter.
Sharm el-Sheikh has the nightlife, but has become a package tourism nightmare; the best hotels here are slightly out of town. Dahab, further up the coast, is a better bet – smaller and quieter, with its own fabulous dive reefs.
Orientation
Naama Bay is the city's lively centre, packed with popular of restaurants, shops, nightlife – and package partying holidaymakers.
Old Sharm, the original town, is home to a and the beautiful Al Sahaba Mosque and a bustling market, the Old Market, where you can buy local spices, crafts, and souvenirs. Here's you'll also find more authentic Egyptian eateries.
Sharks Bay, north of Naama, houses upscale resorts and a beautiful beach. Further south, you'll find the quieter Nabq Bay, known for its stunning natural reserves.
Culture & Customs
Arab hospitality is renowned, and Egyptians are generally friendly and helpful. Bargaining is a common practice in the markets, and it's polite to accept offers of tea when visiting shops.
Sharm El Sheikh is predominantly Muslim, a mix of modern and traditional Egyptian customs. Both Christians and Muslims tend to be actively religious, but will not mind if you are not, just as they will welcome you into churches and mosques outside prayer time. You will be most welcome if you respect their values and dress modestly in public.
During Ramadan, public eating, drinking, and smoking during daylight hours should be avoided.
Food & Drink
In Sharm el-Sheikh, food offerings revolve around traditional Egyptian cuisine, characterized by savoury flavours, fresh vegetables, and hearty grains. Fresh seafood is plentiful.
Specialities to look out for include medames, a staple Egyptian dish of slow-cooked fava beans; koshari, a comforting mix of lentils, rice, chickpeas, and pasta topped with spicy tomato sauce; and sayadieh, a seasoned fish and rice dish. Those with a sweet tooth should try sweet, syrupy basbousa and buttery baklava.
Tea is a popular drink and Bedouin a symbol of hospitality, served with locally harvested herbs.
When to go
The sun shines for most of the year, but don't be fooled by the posters – it's the wind you need to watch out for. It can blow at any time.
July and August are extremely hot, and April can be one of the windiest months. May and September to November will suit sun worshippers, December to March are good for people who want sun but not the fierce heat.
Getting there and away
Sharm El Sheikh, Egypt is best reached by air, with its own international airport (Sharm El Sheikh International Airport – SSH) offering frequent direct and connecting flights from various global destinations.
From the airport, take a taxi or hire a car. Some of the larger hotels will run shuttles to and from the airport, but need to be advised of your arrival time. Top-end hotels run limousine pick-up services.
Getting around
In Sharm el-Sheikh, transportation options are varied. Taxis are plentiful and easy to flag down, but ensure to negotiate fares beforehand. At night and the price will escalate.
Privately operated micro-buses – favoured by locals – shuttle up and down the coast and are as inexpensive as they are uncomfortable.
For more independence, international car hire companies have agencies for car rentals; with light traffic, good roads and easy parking, self-drive is a good option if you plan to travel from your hotel.
Walking is ideal in Naama Bay's pedestrian-friendly areas. For popular sites like Mount Sinai or the Ras Mohammed National Park, it's best to self-drive or take taxis.
Where to stay
Sharm el-Sheik is filled with a raft of fairly similar package resorts, offering the standard fare of pool, beach, and international buffets – which may be just what you want.
The better hotels with a more authentic 'Egyptian' experience, away from the package crowds, are out of town.
Health & Safety
Sharm el-Sheikh is generally safe for tourists, including solo travellers and women, although modest attire is advisable. Street crime is rare but remain aware of your belongings in crowded areas.
While incidents are rare, stay updated on safety advisories concerning regional political instability and check visa requirements before booking.
Vaccinations for Hepatitis A and Typhoid are recommended. Tap water isn't safe to drink; opt for bottled water. Medical facilities are adequate but ensure you have travel insurance.
Remember to respect local Bedouin customs if venturing into their areas. Modest dress is expected, particularly for women. Bedouins often greet strangers with tea or coffee as a sign of hospitality; refusal can be seen as disrespectful. If you're invited into a Bedouin home, remove your shoes. Also, remember not to pet or touch livestock without the owner's consent – these are valuable assets.