Destination guide for Luxor
Luxor, Upper Egypt, Egypt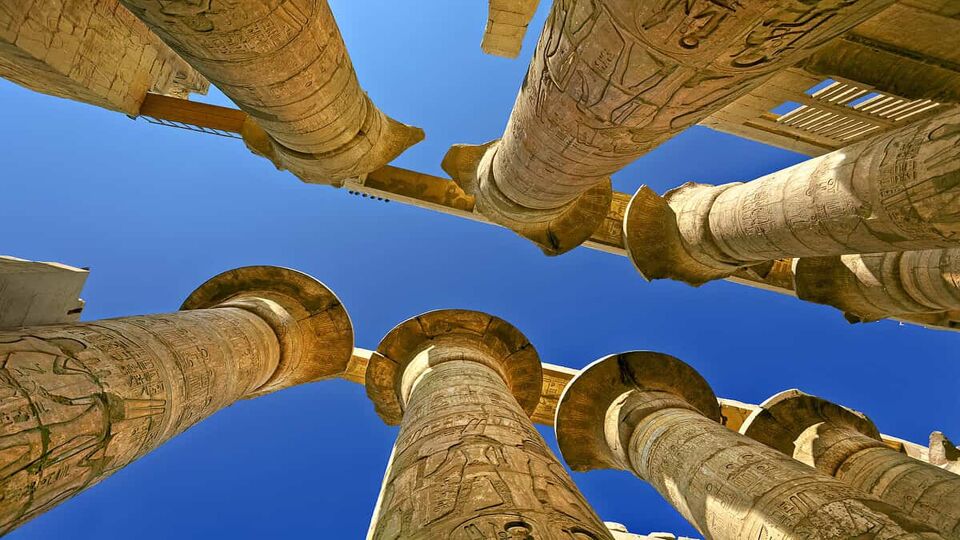 Last updated: 25 August, 2023
Luxor was the political and religious capital of Egypt during its golden age (c.1550-1070 BC), at a time when its empire stretched from modern-day Syria to Sudan.
The monuments left by its ruling pharaohs, such as Ramses, Hatshepsut and Tutankhamun – from multi-tiered columned temples to spectacular treasure-filled tombs – offer a tantalising glimpse into the exotic culture and remarkable sophistication of this ancient civilisation.
It would take at least a week to see all the ancient monuments of what has become the world's largest open-air museum. There's simply nowhere else like it.
Orientation
The River Nile cuts Luxor into two distinct districts, squeezed in on both sides by the desert.
The East Bank has the two vast temple complexes of Karnak and Luxor, as well as the busy and buzzing modern city, most of the hotels and restaurants, and the souk.
The West Bank, traditionally the side of the dead, is much quieter, with several funerary temples, hundreds of beautifully decorated tombs and farmland.
Culture & Customs
Like most Egyptians, the people of Luxor exhibit great hospitality towards foreigners and a love of humour. Archaeological sites, cafés, and beside the river are three great places to meet people.
Both Christians and Muslims tend to be actively religious, but will not mind if you are not, just as they will welcome you into churches and mosques outside prayer time. You will be most welcome if you respect their values and dress modestly in public.
Food & Drink
Luxor cuisine employs a wealth of fresh ingredients, with vegetables coming from along the Nile and seafood from the Red Sea.
Dishes are rarely spicy hot, but always flavourful – cumin, garlic, coriander and parsley being dominant. Fava beans are a staple – fried as 'falafel' or stewed as 'fuul', mopped up with flat bread. Meat is important as kebab or 'kofta', washed down with a fresh seasonal juice – look out for mango, pomegranate and guava.
Stuffed pigeons are delicious and reputed to boost the sex drive, while molokhiya, a delicious vegetable sauce served with chicken, dates back to ancient times.
When to go
Summer (June-August) can be blisteringly hot and the annual fasting month of Ramadan often brings Luxor to a standstill.
Winters can also be surprisingly cool, though the Christmas/ New Year period is one of the busiest. April is traditionally the month of the hamaseen (sandstorms), which is best avoided.
The months from September to November and February to March are the most pleasant as the temperature drops and the light is rich.
Getting there and away
The only way in from the airport is by taxi (25 minutes to the centre of town, 50 minutes to the West Bank). There's a taxi stand at the exit of the airport. As there are no fixed prices and drivers will not use meters, you will need to bargain before accepting the ride (expect to pay a minimum of LE70 (£6). Prearranging a transfer with an agency or hotel is preferable.
Getting around
Taxis are good value, and the easiest way to get around. You will find them outside hotels and cruising the streets. Arrange the fare before you set off to avoid surprises. When visiting the West Bank, take a taxi for a day or half-day, as it can be hard to find a ride between monuments. Private motorboats shuttle across the river at all hours, especially from in front of the Winter Palace and Nile Valley hotels.
Caleches (horse-drawn carriages) are a fun way to get around the East-Bank centre of Luxor, especially romantic at sundown or in the evening.
Where to stay
Most hotels are on the East Bank. The best of them are stretched along the Nile, while the budget places are concentrated around the souk area, railway station and Sharia Televiziyon.
Many three- and four-star hotels, mostly catering to package tours, are on and around Sharia Khaled ibn Walid, also known as 'Little Britain.' This is also home to the majority of Luxor's bars and restaurants.
For peace and quiet, and a glimpse of a more authentic Egypt, choose a hotel on the West bank of the Nile.
Where to eat or drink
Luxor is not a foodie destination, with most tourists choosing to eat at their hotels, with some fine dining at the top-end hotels. Numerous Nileside bar-restaurants serve cool beer and simple dishes. Nightlife is a stroll along the Nile.
Where to shop
The souk is the obvious place to shop for souvenirs and trinkets, but there is a lot of Chinese-made tat. For something more interesting, check out the fair-trade stores, just off the main souk alley.
Alabaster factories on the West Bank are still turning out hand-crafted objects, but avoid going there with a guide, as their commission will be added to your bill.
Alabaster, particularly unpolished objects, are a good buy on the West Bank, spices in the souk, and copies of ancient Egyptian sculptures sold near the monuments.
Health & Safety
Petty crime rates are low in Luxor, but have been on the rise since the 2011 revolution. It is best to take precautions.
Many tourists complain about hassle from horse cart drivers and boat owners, and demands for baksheesh (tips).
Food hygiene is the other big issue. Beware of drinking the tap water and avoid eating raw salads and street food.