Recommended place to stay: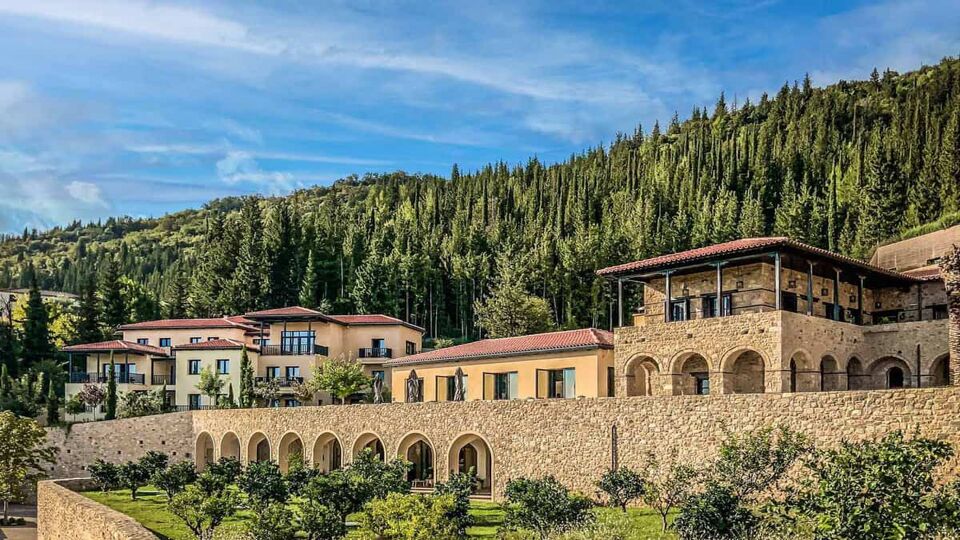 Last updated: 27 February, 2023
In the shadow of the abandoned 13th-century town of Mystras, Greece's answer to Pompeii, this 'wellbeing destination spa hotel' has been built around a centuries-old, honey-stoned mansion, which houses the resort's top suites, the 4th-floor carved spa, the GAIA restaurant, a library and chill-out lounges. Atmospheric alleyways and landscaped courtyards link this hub to two new accommodation blocks, alongside a refectory-style restaurant and sun-trap terrace.
There are memorable (and strenuous) mountain hikes and day trips to ancient sites such as Olympia and Monemvasia but most guests never stray far from the striking contemporary spa complex, carved 25 metres into a private pine forest. Its four floors are home to a state-of-the-art gym, medical consultation rooms for full-body health checks and spa treatment rooms that offer a cathedral-like calm.
The stunning outdoor infinity pool looks across the wide open plain of Sparta, to mountain peaks far beyond. Take morning yoga on the deck, overlooking this UNESCO heritage landscape.
Don't miss
The 'Spartan Spirit of Adventure' is a 3–7-day fitness course, inspired by the region's Spartans ancestors. A personal trainer will have you bounding up the steps of a classical amphitheatre, switch-box jumping onto centuries-old stones, rock-climbing, cycling and practising anti-gravity yoga in peaceful groves of olive trees.
After, or alternatively, retire to the holistic spa for holistic bodywork including acupuncture, reflexology, signature massages and beauty treatments. Powerful energy therapies will clear your blocked emotions and calm your thoughts.
Surrounding area
It's a tranquil spot fully immersed in nature, surrounded by private pine forest. From Euphoria's pool deck, the view is of fairytale forests and distant misty mountains. It feels blissfully remote and yet the resort sits on the outskirts of Mystras.
The main square is a two-minute stroll downhill, edged with dimly lit bars, sleepy tavernas and souvenir shops selling memorabilia for the town's UNESCO-protected 13th-century site, which looms over the rooftops. The closest beach is a 40-minute drive.
Please note - we hope to one day have live prices for you, but for now, here are some useful links for you to compare prices...
Check pricing & availability on:
Room facilities
Tea & coffee making facilities