Recommended place to stay:
Earth Lodge
Sabi Sabi Private Game Reserve, Kruger National Park, South Africa
|
www.sabisabi.com
|
Official star rating: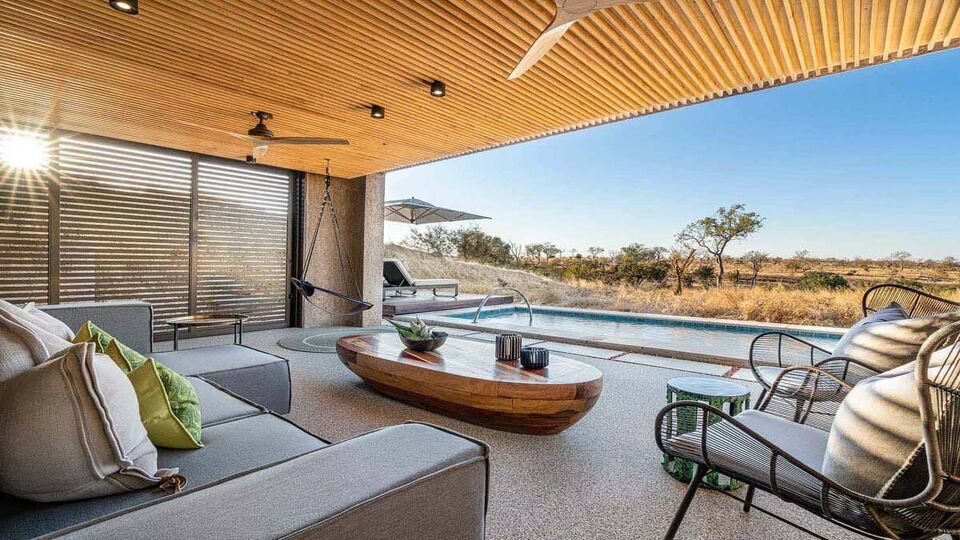 Last updated: 03 December, 2023
Game in Sabi Sand is among the best in South Africa – the Big Five, plus leopard and sometimes wild dog – and Earth Lodge is the most striking of the four lodges here.
A futuristic eco-friendly building, it features rooms built into the earth, enormous cool open spaces and a contemporary design that marries local trees, rocks and geography with cutting-edge architecture.
There is no other camp like it in South Africa: built into the soil, its dome roofs peeking out from beneath the grass. Views are not therefore amazing, however, the bush around is pretty, with plenty of trees, streams and water features, and a Zen Garden for meditation.
Although this camp is architecturally cutting edge, it is still very African: its walls are plastered in local earth, light fittings are created from branches, and bedheads are carved from tree trunks.
Each large room is decorated in earth tones, and has its own plunge pool, living area, and verandah on which dinners can be served (some overlooking the watering hole). Private dinners can be also organised by a fire in the boma, by the watering hole or in the wine cellar.
The butler service, wine cellar and gourmet food make this a foodie destination camp, and there's a spa for post-safari pampering.
Game & game viewing
Game in Sabi Sand, which borders the Kruger National Park, is among the best in South Africa, with the Big Five all present. The leopard population in this area is one of the healthiest in Africa, so sightings are almost guaranteed. The colourful but rare wild dog is also sometimes seen.
Being officially outside the Kruger allows the camp to offer night drives. Night drives are a thrill, with giant spotlights used to spot eyes in the bush. The big cats usually hunt at night, and it's also an opportunity to see nocturnal creatures like porcupine and aardvark.
Taking the kids
The Elefun Centre supervises play for children aged 4-12, offering a range of activities from nature walks and map reading, to crafts and treasure hunts. Children under 6 are not allowed on safaris (or in the boma for dinner).
Getting there
The lodge is a two-hour car transfer (or a short flight) from Kruger Mpumalanga International Airport – or a five-hour drive from Johannesburg. Children under 13 are not permitted. Malaria risk is low throughout the year.
Please note - we hope to one day have live prices for you, but for now, here are some useful links for you to compare prices...
Check pricing & availability on:
Room facilities
Tea & coffee making facilities
Destination guides including or relevant to this place to stay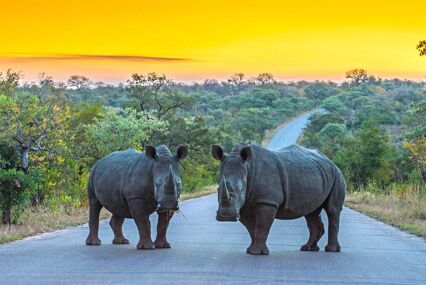 South Africa's famous game-filled national park: easy to access, great tourist facilities and Big Five almost guaranteed.
Round-ups that include this placetostay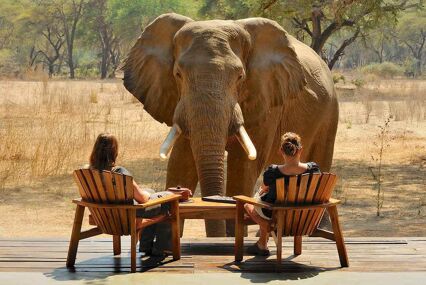 Renowned safari journalist and expert Lisa Grainger recommends her favourite African camps, from savannahs teeming with Big Five, to star-lit desert wildernesses.