Onsen-bathing snow monkeys of Nagano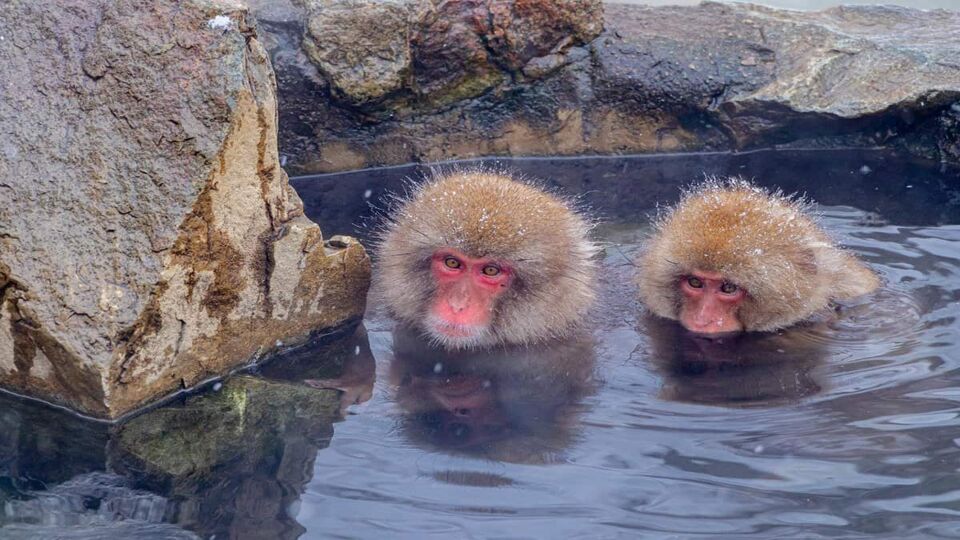 Last updated: 30 July, 2023
The Jigokudani Monkey Park in Nagano is famously home to a colony of red-faced Japanese macaque monkeys – that soak blissfully in the natural hot-spring baths.
The enigmatic monkeys and their startling, human-like bathing behaviour were first propelled to international stardom by the BBC's world-renowned wildlife documentaries; now every guidebook to Japan has a photo of them.
The area is mountainous and volcanic – heating the baths geothermally. In the winter, you can witness huge plumes of steam emanating from the hot springs that pool around this region. It's a fairly bleak place – an hour watching the monkeys is usually enough.
Experience an onsen
It's quite a trek from Tokyo just to see a monkey bathing, so while you're there, take in an onsen too. Onsen are naturally occurring hot springs, heated geothermally, converted into indoor or outdoor pleasure baths. They can be public or private facilities, and sometimes contained within your hotel.
The volcanic activity in the area makes Nagano as great place to try an onsen. The nearby towns of Shibu Onsen and Yudanka Onsen both have lovely collections of traditional ryokan inns with their own hot-spring baths.
While you're there
Nagano City is also worth a visit for the magnificent Zenkoji Temple – near which you could stay with monks in pilgrim's lodges. In winter, Nagano also has great skiing and snowboarding options – it's where the 1998 Winter Olympics were held.
Price: Free
Minimum age: Any
Age suitable: 8+
When: All year around
Getting there & doing it
Bullet trains connect Tokyo with Nagano, taking 80 to 100 minutes depending on the service. From Nagano Station, then take a bus 40 minutes to Kanbayashi Station, from where it's a 30-minute walk through the woods to the baths. Afterwards, take the bus from Kanbayashi to Shibu Onsen (10 mins) or Yudanka Onsen (15 mins) for a bath of your own.
When to do it
The monkeys can be seen soaking all year, but winter is best – the monkeys are more photogenic in the snow, and a steaming outdoor onsen bath is more enticing and soothing in the colder air.