Hike along Santorini's caldera
Santorini, Greek Islands, Greece
|
Credit Andonis Luxury Suites
Last updated: 24 June, 2023
A 6-mile hike along the rim of Santorini's caldera, this relatively easy three-hour trek is one of the most memorable in the whole of the Aegean. The route links Fira, the island's capital, with Oia, its most picturesque village.
Walking the caldera – the rim of a sunken volcanic crater – is the best way to appreciate the island's unique geography and to soak up those spectacular landscapes. As you walk, you'll see whitewashed houses perched on vertiginous slopes, and colourful, striated caldera cliffs that plummet into the azure sea.
Don't miss
At Firostefani take a detour to climb above the church of the Three Bells for a photo of the famous, picture-postcard image of Santorini: a blue-domed church against the caldera.
If you have time, take a diversion to the rock of Skaros on your left (signposted) and the ruins of a medieval castle, long-since destroyed by an earthquake.
Price: Free
Minimum age: Any
Age suitable: 16+
When: All year around
Duration: 4-5 hours
Getting there & doing it
Pick up the trail at the centre of Fira in front of the Hotel Atlantis, at the junction of Ypapandis and Mitropoleos streets. Continue north up Ypapandis, turning left into Agiou Mina at the first junction until you hit the cable car station. From there, the trail is straightforward: you keep the sea on your left, so whenever the path forks, you branch left.
You'll hike past Firostefani (an extension of Fira) and then Imerovigli, the last major village before Oia. At Prophitis Ilias church you'll find a major fork. The right side is easier but joins the main asphalted road for a while; the left side is slightly trickier, but more attractive. The two paths re-join soon thereafter. At Oia, the path joins the main paved road by the village entrance.
Take sunscreen, a hat and bottled water; the trail is unshaded throughout, and there are no facilities.
When to do it
The trail is accessible all year round but it gets very busy in July and August. If you can, do it in the spring when the wild flowers bloom.
The trail is unsheltered on the west side so choose an early morning time to walk, when the sun hasn't risen high yet.
Destination guides including or relevant to this experience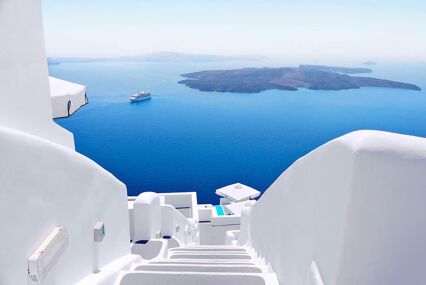 Incredible volcanic scenery, enchanting cave hotels, fine wines and memorable sunsets equal heaven for romantics.
Round-ups that include this experience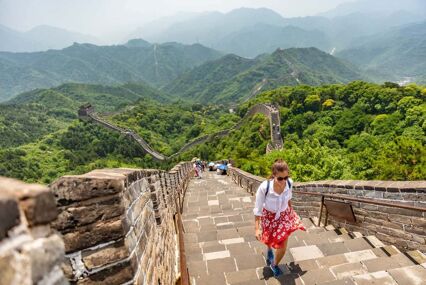 From traversing sand dunes, to walking on glaciers, through canyons, up mountains and along ancient city walls, here's our round-up of the world's best walks. Each walk can be tackled in a day or less with a moderate level of fitness and no technical ability.